The mystique of theater holds true all year in New York City, but January is the best time to score the deals both on Broadway and Off-Broadway. Beginning January 4, theatergoers can purchase 2-for-1 tickets to 22 Broadway shows between January 17 and February 4 and 38 off-Broadway shows between January 30 and February 12.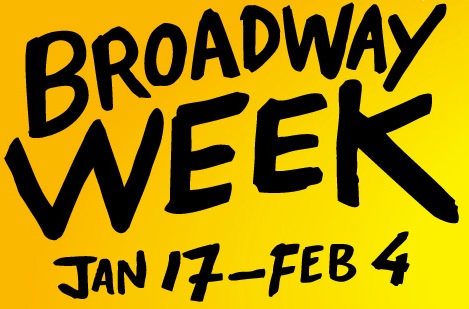 Musicals participating in Broadway Week (erroneously named as it lasts nearly three weeks), include:
Anything Goes ­ - a must-see with Sutton Foster and Joel Grey
Chicago The Musical – classic and sexy as always
Godspell ­ - a good 70s time with 2012 updates
Jersey Boys – one of the best still on Broadway
Lysistrata Jones ­ - new
Mamma Mia! ­- ABBA never sounded so good
Mary Poppins ­ ­- magic for the kids
Memphis – sexy and smokin'
On a Clear Day You Can See Forever – new revival
Priscilla Queen of the Desert – a colorful, dancing version of the movie
Rock of Ages – grab your lighter and a drink
Sister Act - even more fun than the movie
Spider-Man: Turn Off the Dark­­ – a Vegas-style spectacular on Broadway
The Gershwins' Porgy and Bess – opening in a week, now in previews
The Lion King – amazing music and sights for the whole family
The Phantom of the Opera – still wonderful
Wicked – a usually hard ticket to score
For more information, visit http://www.nycgo.com/broadwayweek. While on the site, make sure to enter the Official Broadway Week sweepstakes from January 4-February 4 for a chance to win two Broadway tickets per month for an entire year and two domestic round-trip tickets.
And for those who prefer a non-musical evening:
Chinglish - hilarious
Relatively Speaking - three classic-laugh vignettes Woody-Allen style
Seminar – Professor Serverus Snape at his best
Stick Fly ­– soap-opera style theater set on Martha's Vineyard
The Road to Mecca ­– intriguing drama
And, when you're done rockin' to Rock of Ages and realize there's no place like home (or NYC) after seeing Wicked, remember there is even more in store for you away from the Great White Way.
Off-Broadway Week (also longer than a week) has 2-for-1 tickets on sale starting January 4 for 38 shows from January 30-February 12. Missed Avenue Q when it was on Broadway? This is a great chance to see it, along with many solid off-Broadway shows, in a more intimate setting at gentler-than-usual prices. Visit http://www.nycgo.com/off-broadway for more information. Participating shows are:
The Amazing Max and the Box of Interesting Things
Assistance
Avenue Q
The Awesome 80s Prom
The Berenstain Bears LIVE!
Black Angels Over Tuskegee
Blue Man Group
Carrie
Channeling Kevin Spacey
CQ/CX
Danny and Sylvia: The Danny Kaye Musical
The Devil's Music: The Life and Blues of Bessie Smith
The Fantasticks
Freckleface Strawberry, The Musical
Freud's Last Session
Fuerza Bruta: Look Up
Galileo
Gazillion Bubble Show
How I Learned to Drive
Ionescopade
The Lion, the Witch and the Wardrobe
Look Back in Anger
Love, Loss, and What I Wore
Million Dollar Quartet
Miss Abigail's Guide to Dating, Mating, & Marriage
My Sinatra
Perfect Crime
The Philanderer
Psycho Therapy
Rated P... for Parenthood – A New Musical
Rent
Russian Transport
Rx
Sam Eaton's The Quantum Eye – Mentalism and Magic Show
Silence! The Musical
Sistas: The Musical
Stomp
Traces