With the leaves changing colors and the temperatures cooling down, it feels like the time to cozy up indoors with some wonderful classical music. If you've ever imagined yourself at one of the famous student gatherings held in the home of composer Nikolai Rimsky-Korsakov, you have a chance to experience something similar in New York.  In Saint Petersburg, Rimsky-Korsakov gave protégés like Igor Stravinsky the opportunity to share their musical talents with others. In Manhattan, it's the American Foundation for Bulgaria who is inviting you for an intimate evening of music.

The Bulgarian Concert Evenings are free to all, in performance at the Bulgarian consulate, 121 East 62nd Street, on the Upper East Side.  These musically filled evenings celebrate the talents of more than forty Bulgarian artists along with other musicians of international acclaim. The entire program is managed on a volunteer basis by the Bulgarian musicians, demonstrating their love for their art.
In true salon fashion, seating is limited. While concerts are free, a $20 donation is suggested to help further this wonderful program.  Ten concerts are scheduled from October through May. The first concert is scheduled on Monday, October 20, at 7pm.  The full schedule and information about donations can be found at www.bceny.org.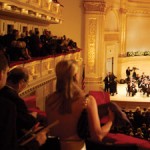 To kick off their season, there's a gala at Carnegie Hall's Weil Recital Hall on October 16 for a modest price (tickets are only $40, $30, or $20 for the concert). The evening's program features works by Bela Bartok, Antonin Dvorak, Emil Tabakov, and Rafael Piccolotto de Lima. Accompanying musicians from the Metropolitan Opera Orchestra will be violist Dov Scheindlin, cellist Joel Noyes, violinist Georgy Valtchev, percussionist Svet Stoyanov, and pianists Anna Stoytcheva and Lora Tchekoratova.  154 West 57th Street. Tickets and information at www.carnegiehall.org, or 212.247.7800.