There's a reason why New York City is the #1 vacation destination in the US.  Both visitors and locals appreciate its diversity and energy – actually, that's why those of us "locals" live here all year.  But, to live here all year, it's important to know how to enjoy the city while going easy on your pocketbook.  When it's warm outside, New York City shows off its finery with concerts, recreational activities, art, and more.  And the cost of public transportation to enjoy them?  Well, it's a mere pittance in reality, and you can also enjoy the entertainment value of what's happening underground as well.
Here are some of our favorite things to do that are absolutely, positively free.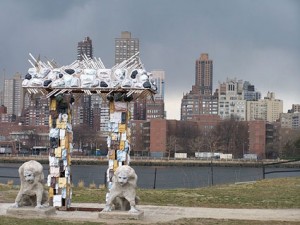 In the summertime, catch a free outdoor movie screening in Bryant Park (Manhattan) or at the Socrates Sculpture Park in Queens.  Also, watch for schedules for the many free outdoor concerts happening in Manhattan and Brooklyn throughout the summer (more on that in the next few weeks).
Enjoy the free entertainment that happens daily in the subway stops.  These underground entertainers are vetted and you'll enjoy some of the city's most creative music and performing arts.  Also, take note of the variety of art installations in the various stops.  The MTA's  Arts for Transit program will surprise you.  Our favorite stop for creativity?  14th and 8th -- can you find all the creatures at the bottom of the stairs, below the stairs, on the railings and in other nooks?
If you're outdoors, head to Central Park or Union Square for non-stop magic, music, and performance acts.  The price of admission: whatever tip you feel is worthy.
Enjoy a free boat (actually, ferry) trip to Staten Island or Governors Island.  On the weekends, Governors Island offers bike riding, picnicking, festivals, concerts and more.  You can almost pretend you've headed to the Hamptons or somewhere far from the city.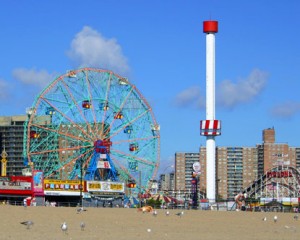 Walk the High Line (Meatpacking District), the Coney Island Boardwalk (Brooklyn) or across the Brooklyn Bridge and back.  This is exercise with a view of the city and the people who live here.
Play a sport or chill at the Great Lawn or Sheep Meadow in Central Park.  For a similar experience in Brooklyn, Prospect Park has it all, including bike rentals and a carousel.
Museums in the city have various free nights.  Go online to check schedules and plan your visits accordingly.
Lincoln Center brings culture outdoors during the summer with free concerts, movie screenings, participatory dance programs, and other events.  Check out their schedule for up-to-the-minute listings and the full Lincoln Center Out-of-Doors Program.
Go to the beach!  If you don't mind crowds, New York beaches are great.  From Coney Island to Jones Beach to Orchard Beach, you'll find sand, surf, and relief from the city heat.  And public transportation will get you there easily and inexpensively.