It may be off-and-on cold and warm this winter, but the reality is still that scarves and hot chocolate are becoming the accessories of choice.  If the winter blues are getting you down, try these suggestions to put a smile on your face.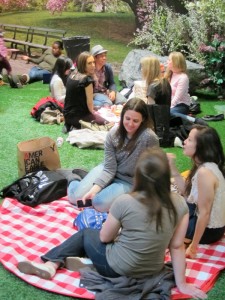 Park Here: Everything "pop-up" was all the rage last year, and this year's twist is the brilliant pop-up park.  New Yorkers don't have to fall into park withdrawal simply because it's cold — a visit to NoLIta's indoor Park Here will cure any ills. The sights of plush green grass (even if it is synthetic), picnic blankets, and hammocks would alone be enough to get you giggling, but add a rotation of food vendors and you can pretend you're out in the middle of the Great Lawn.  Hang out or participate in events such as the daily "Mommy Mornings" from 9am-11:30 where moms and kids share activities like yoga and book readings before the adults indulge in wine tastings and other more mature events.  The park is free and open to the public from 12 Noon-8pm daily most days through February 15.
201 Mulberry Street (between Spring and Kenmare), 212-334-0288, http://parkhere.info/
Coffee and Tea Festival: The perfect cup of coffee or tea is a definite cure-all for the winter blues. At the two-day 7th Annual Coffee and Tea Festival NYC, a favorite from Food Network's Unwrapped, visitors taste the best as well as learn from the best during lectures and demos from top coffee and tea producers worldwide. Past popular events have included the Korean Loose Leaf Tea Ceremony, a  seminar on creating coffee and tea-infused desserts, and the Ultimate Barista Challenge. Arrive early, as goodie bags go to the first 1,000 guests each day. (February 25-26; 11am-5pm; $20+tax for 1-day pass; $30+tax for 2-day pass)
7 W 34th Street, http://www.coffeeandteafestival.com/coffee-tea-event.html
Fireside dining: What sounds more idyllic on a cold winter day than enjoying a wonderful NYC meal near a roaring fire? Here are some hot spots with fireplaces:
Benjamin Steakhouse (52 E 41st St, 212-297-9177, www.benjaminsteakhouse.com)
Black Mountain Wine House (415 Union St-Brooklyn, 718-522-4340, www.blackmountainwinehouse.com)
Employees Only (510 Hudson St, 212-242-3021, www.employeesonlynyc.com)
La Lanterna di Vittorio (129 MacDougal St, 212-529-5945, www.lalanternacaffe.com)
Molly's (287 3rd Ave, 212-889-3361, www.mollysshebeen.com)
One If By Land Two If By Sea (17 Barrow St, 212-228-0822, www.oneifbyland.com)
Per Se (10 Columbus Cir, 212-823-9335, www.perseny.com)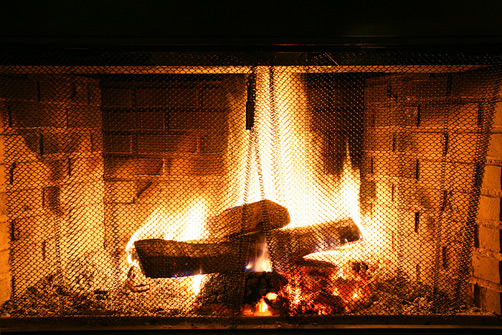 Hot yoga: Stick to your New Year's resolution and improve your mental and physical well-being with some heat-inducing Bikram yoga. For those who need more of a sweat than Hatha yoga can produce, Bikram yoga consists of yoga postures in a heated room which promotes sweating to flush toxins and prevent injuries.  Try the "original" Bikram Yoga NYC which specializes in this type of practice.
(143 W 72nd St / 212-724-7303; 797 8th Ave / 212-245-2525; 173 E 83rd St / 212-288-9642; 182 5th Ave / 212-206-9400; http://www.bikramyoganyc.com)