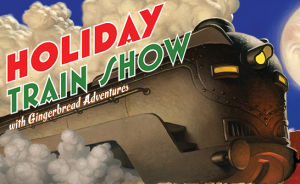 The New York Botanical Garden Holiday Train Show If your kids love trains or any type of transportation, this show is an absolute don't-miss.  Model trains and trolleys travel along a landscape of scale models of more than 140 New York landmarks instantly recognizable to any NYC fan.  The kick is that these buildings are made of fruits, twigs, seeds and other materials.  You'll see the Empire State Building, Yankee Stadium, Penn Station, among others, all in this twinkling wonderland. The New York Botanical Garden,  200th Street and Kazimiroff Boulevard, The Bronx. 718-817-8700. NYBG.org/Holiday-Train-Show.  Through January 13.  Tickets online or at the park.

Christmas Lights Tour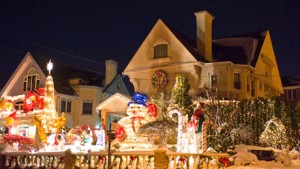 I've written about bus tours that do this, but finally there's one that combines a walking department store window tour with a bus/walking tour of the greatest of all Christmas-light neighborhoods.  The tour begins at Macy's, the largest department store in the world, and continues by bus to Dyker Heights in Brooklyn, where the lavishness of the tree and home displays will boggle your mind.  There are even displays set to music on a specified radio station.  I've been told that it takes months for the homeowners to prep and set up.  The final stop is at Fulton Ferry Landing in Brooklyn to look across the river to see the lights of Manhattan.  The tour is offered through NYSee Tours.  212-957-5009 NYSeeTours.com Through New Year's.
Regional Dining Near Macy's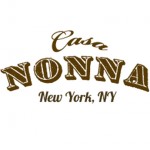 If, after all your holiday shopping, the kids want pizza and you want something a little more refined, Casa Nonna is offering a regional menu featuring the cuisine of Lombardia, Italy's north central region.  Perfect for chilly days, the cuisine is hearty with savory flavors and dishes like osso bucco alla Milanese, served with saffron risotto and root vegetables.  Or try the luscious pizzocheri valtellina, a pasta dish that will warm up every part of your chilly body with gorgonzola and winter squash.  Dessert really should really be labeled breakfast: Chef Julio Genao's pannetone tostato served with whipped lemon-ricotta (a treat all by itself) and a fig-orange marmalade. The four-course regional menu is only $44, too, and I promise you won't leave hungry. The restaurant is located just three blocks from Macy's.  Casa Nonna, 310 West 38th Street, Manhattan, 212-7360-3000, e2hospitality.com/Casa-Nonna
Classic Harbor Line Holiday Cruise Aboard the Yacht Manhattan Leaving from Pier 62 at Chelsea Piers, the heated vintage yacht cruises around Manhattan for 90 minutes, all decked out for the holidays with Christmas lights, holiday caroling with the Chelsea Opera or Holiday Jazz Trio, and hot cocoa and holiday cookies for all ages.   The cruise leaves most evenings at 6pm and costs $55 per adults; children under 14 $27; under 2 free. Sail-NYC.com Through December with some dates in January.