Summer Concert Series in NYC: Downtown Manhattan and Brooklyn
Manhattan and Brooklyn keep on rocking this summer with even more outdoor festivities.  And the music is as free and beautiful as the outdoor setting.  Try to arrive early to get the best spaces.
Celebrate Brooklyn! Performing Arts Festival: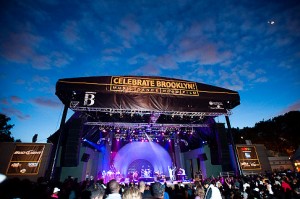 Prospect Park's Bandshell will host its 34th year of free performances ranging through August.  With nearly a quarter million attendees per season, Celebrate Brooklyn! shouts variety and musical diversity.  Among the numerous concert options on Thursdays, Fridays, Saturdays and Sundays, a list of benefit concerts will also be offered.  All proceeds go towards the continuation of free concert series at the Bandshell.  The Bandshell is located within Prospect Park at Prospect Park West and 9th Street.
Benefit Concert Lineup:
July 31: Sigur Ros
August 8: M. Ward
More information at: http://www.bricartsmedia.org/performing-arts/celebrate-brooklyn.
Seaside Summer Concert Series:
Thursday Nights at the West 21st Street and Surf Avenue in Coney Island will feature some of music's most notorious names for the Seaside Summer Series.  Performances are held at 7:30pm.  All shows are free of charge, and viewers are encouraged to bring their own chairs, although rental chairs are available for $5.  A definite stop for the true Baby-Boomer generation.
August 2: Dennis DeYoung: The Music of Styx, Lou Gramm: The Voice of Foreigner, Bobby Kimball: Original Lead Singer of Toto
August 9: Joan Jett and the Blackhearts
August 11: The Jacksons
August 16: Gladys Knight, The Commodores
Line-up details at: http://www.brooklynconcerts.com/seaside.html.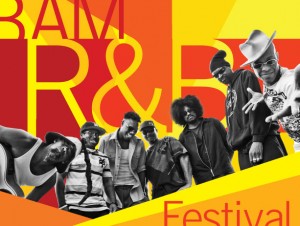 Hosted by the Brooklyn Academy of Music, this mid-day music series throws down in the grassy strips of Brooklyn.  Respecting the legends and sounds of R&B, the series takes place on Thursdays at the MetroTech concert stage between Jay Street and Flatbush Avenue.  A laid back mix of blues and rhythm is sure to break up the summer heat.
August 2: Blitz the Ambassador
August 9: Aloe Blacc
Check it out at: http://www.bam.org/programs/2012/r-and-b-festival-at-metrotech.
Rock on and rock out at Hudson River Park's Pier 84 with a hard-hitting free-music Thursday night of electric guitar magic.  6pm.
August 9: Wild Nothing and Grimes and DIIV
Information at: www.hudsonriverpark.org/events/series/riverrocks.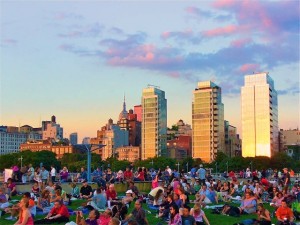 A great music event hosted by Hudson River Park, Sunset on the Hudson kicks off the summer weekends with live performances by local jazz, classical, soul and blues bands.  Located at Pier 45, the family oriented series begins at 7pm every Friday.
August 3, August 24: Max Gallico & Sinclair Jennings Jr: Acoustic Soul Duo
August 10: The Baby Soda Jazz Band
August 17: Chuck Braman Jazz Band
Details can be found on: www.hudsonriverpark.org/events/series/sunset-on-the-hudson.
Yet another Hudson River Park provided music specialty, every Tuesday night at Pier 45 will feature new generation talent from students of the New School for Jazz and Contemporary Music and the Mannes College New School for Music.  Both Classical and Jazz performances offered throughout the summer, beginning at 6:30pm.
August 7, August 21: Classical
August 14: Jazz
Information at: www.hudsonriverpark.org/events/series/stars-of-tomorrow.