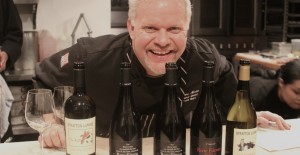 Foodie alert!
Manhattan Cocktail Classic has announced three more exciting events for the next week:
Smokin' Boozy Bacon-Loaded Brunch with Top Chef Dave Martin – 2 sessions:
Sunday, May 19, 11:00am-1:00pm (Session 1) and 2:00pm-4:00pm (Session 2)
Top Chef alum Dave Martin shows how eclectic brunch can be, pairing sweet and savory brunch specialties with his signature cocktails. Quirky concoctions spiked with The Perfect Puree and Double Cross Vodka accompany bite-sized versions of Martin's classic brunch dishes. The treats at this event are meat-based for the most part, featuring Nueske's smoked meats, so carnivores are in luck. But a few meatless options are available for all the vegetarians out there. Full menu:
Cocktails:
Smokin' Mary: Dave's Homemade Spicy Mary Mix, The Perfect Purée Chipotle Sour, Double Cross Vodka and Nueske's Pepper Bacon
Spring Thyme & Lime Cooler: Fresh Squeezed Limeade, The Perfect Purée Thyme & Citrus, and Crushed Ice
The Bruised Pineapple: The Perfect Purée Carmelized Pineapple, Double Cross Vodka and Orange Agave Nectar
Food pairings:
Monte Cristo's Nueske's Smoked Ham & Smoked Turkey, Gruyere inside Malted French Toast and Blackberry Sauce for dipping
Mini Veggie Frittatas: Artichoke Hearts, Roasted Tomatoes, Wild Mushrooms & Goat Cheese
Duck Quesadillas: Nueske's Smoked Duck Breast, Apricot & Mango Chutney and Asiago Cheese
Hanger Steak Bites: Smokey Rubbed CAB Hanger Steak with Groovy Gorgonzola for dipping
Nueske's Wild Cherrywood Bacon & Dried Cherry Shortbread Cookies: Bacon, Tart Cherries & buttery goodness
Chocolate Truffle Cakes: Mini versions of the classic with Dave's Salted Caramel Sauce
Location:
Guggenheim Studio, 250 West 54th #405 between 8th Avenue and Broadway, Manhattan
Tickets: $65
"An Afternoon of Chocolate and Cocktails":
Sunday, May 19, 3:00pm-5:00pm
Celebrate the best of both indulgences at a walk-around tasting sponsored by Valrhona Chocolates. Nibble on delectable desserts, courtesy of NYC's premier chocolatiers and pastry chefs. Then head to the bar for a glimpse into how chocolate-friendly spirits are made, all while tasting your way through Valrhona's signature line of chocolates. Once you narrow down your favorite dessert, the mixologists will make a custom drink for a decadent pairing.
Location:
Astor Center, 399 Lafayette Street at East 4th Street, http://www.astorcenternyc.com/
Tickets: $45 (purchase directly on the Astor Center website: http://www.astorcenternyc.com/class-an-afternoon-of-chocolate-and-cocktails.ac
Perfect Pairings:
Tuesday, May 21, 6:00pm-10:00pm
Want to indulge for a charitable cause? Enjoy an evening of cocktails and food pairings to boot at The Bowery Hotel, located in Manhattan's trendy Lower East Side neighborhood. At the end of the evening, you'll leave with a full stomach and the good feeling that comes from knowing that your money is going to a great cause. Tickets will be available soon, with proceeds benefitting the Leukemia and Lymphoma Society.
Location: The Bowery Hotel, 335 Bowery between Great Jones and Bond Streets, www.theboweryhotel.com
Tickets: Check the Manhattan Cocktail Classics website for updates: tickets.manhattancocktailclassic.com