It's that time of the year when cities around the country start imitating the "best": New York City's Restaurant Week.  Started in 1992, the annual event has grown by its number of weeks and participants and has just been extended through September 6.


Here's the deal:  you pay $24.07 for a three-course prix-fixe lunch and $35 for a three-course prix-fixe dinner.  Some restaurants include the specials on Saturdays and Sundays; others don't, so ask when you reserve.  Some restaurants will even continue the special pricing past the official end date.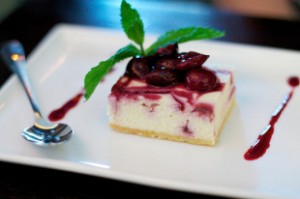 More than 170 restaurants are participating in the extended Restaurant Weeks, so there's no reason not to indulge and indulge and indulge.  The country's best chefs await you.
Here are 25 of the choice restaurants that are participating right now:
Adour Alain Ducasse – French, Midtown East
Le Caprice – Mediterranean, Midtown East
Yerba Buena – Latin American, West Village
Nobu– Asian-Peruvian, TriBeCa
Blue Water Grill – Seafood, Union Square
The River Café – American, Brooklyn
The Central Park Boathouse – American, Upper East Side
Bar Boulud – French, Upper West Side
Nougatine at Jean-Georges – French, Upper West Side
Park Avenue Summer – American, Upper East Side
Villa Berulia – Italian, Midtown East
Quality Meats – Steakhouse, Midtown West
Porter House New York – Steakhouse, Midtown West
The Oak Room at the Plaza – American, Midtown East
David Burke Townhouse – American, Upper East Side
Asiate – Asian-American, Midtown West
A Voce Columbus – Italian, Midtown West
Anthos – Greek, Midtown West
Lure Fishbar– Seafood, SoHo
5 Ninth – American, Meatpacking District
Tanuki Tavern – Japanese, Meatpacking District
DBGB Kitchen and Bar – French, East Village
Matsuri – Japanese, Chelsea
The Red Cat – American, Chelsea
Delmonico's Steak House – Steakhouse, Financial District 
NYC Restaurant Weeks are even sweeter this year.  JetBlue, a third-time partner in the program, invite visitors to enter its "JetBlue Loves NYC Sweepstakes" for a chance to win a an NYC weekend for two with two round-trip tickets on JetBlue, two nights in a luxury hotel, dinner for two, two tickets to a Broadway show, a $500 American Express gift card, and dinner for two at the airline's terminal at JFK, plus enough frequent flyer points for a round-trip flight to come back!