Just in time for the Vendy Awards (the Academy Awards for food vendors) on Governor's Island on September 25, here's my Top 10 list of the 10 NYC food trucks worth lining up for.  Check each truck's Twitter feed to find out the locations near you.
The Big Gay Ice Cream Truck Owner-chef Doug Quint's charm and invention make this Mister Softee truck a stand-out among NY's ice cream treats. Quint, a classically trained musician studying for his doctorate, creates wild and scrumptious masterpieces, varying on a daily basis. His range of ice cream and topping combinations have been known to be anything from vanilla and chocolate soft serve lathered in dulce de leche and cayenne pepper one day, and Trix Cereal, and olive oil and sea salt the next. Be sure to indulge in the addictive Choinkwich, two chocolate cartwheel cookies sandwiching chocolate ice cream and caramelized bacon, or The Gobbler, a messy decadent sundae with pumpkin butter, graham crackers, whipped cream, and craisins. Check out the website for this week's schedule!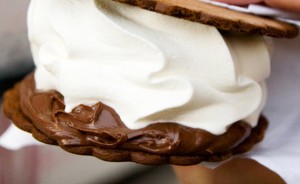 17th & Broadway, http://www.biggayicecreamtruck.com/, http://twitter.com/Biggayicecream
Country Boys The Martinez family has been serving authentic Mexican food at Red Hook Ball Fields every Saturday and Sunday for nearly 20 years. Lines extend pretty long each weekend for generous portions of fresh, traditional, Mexican cuisine. The family's cooking has been perfected from their days in Puebla, Mexico, resulting in mouthwatering varieties that are to die for. Combination plates tend to be the meal of choice, with options such as tacos, quesadillas (plain cheese or shrimp and cheese), or huarache, a corn dough containing beans, meat, shredded lettuce, and guacamole.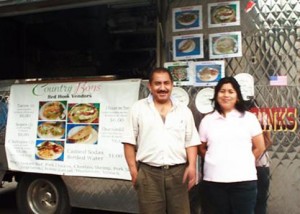 Red Hook Ball Fields, Bay St. & Clinton St.
http://www.redhookfoodvendors.com/Martinez.html
Cupcake Stop If you have a sweet tooth, this is the food truck for you. This festive, movable cupcake emporium, owned by Lev Ekster, offers a varying menu of handmade cupcakes with creative flavors and combinations. Kids will love the Funfetti (an all butter cream version with rainbow sprinkles) while Red Velvet is a favorite for any age. Lemon Lemon and Elvis will delight, as well, followed by the truck's gourmet coffee. Gluten-free cupcakes are available on Tuesdays, and any leftovers are donated to City Harvest, New York's food assistance program, each day. One truck remains stationary at South Street Seaport, and you can track the other through their website or twitter. Note: Credit cards are accepted for phone-ahead orders only.
Location varies, http://www.cupcakestop.com/ , http://twitter.com/cupcakestop , (718)-702-2825
El Olomega This Red Hook truck will introduce you to an uncommon, but decadent Salvadoran delicacy: pupusas. A pupusa is a griddled cornmeal pancake stuffed with pork, chorizo, shrimp, sweet plantains with cheese, and anything else your stomach desires. A favorite is the revuelta, stuffed with pork, mozzarella and beans or the loroco, with a slight zucchini taste. All pupusas include a side of pickled red cabbage and tangy red sauce, which can all be washed down with Salvadoran beverages, including horchata. This truck is constantly busy all day Saturday and Sunday, but definitely worth the wait.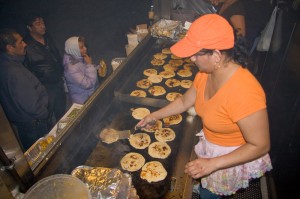 Red Hook Ball Fields, Bay St. & Clinton St., http://www.elolomega.com/ , http://twitter.com/elolomega
Go Burger Visit this BLT Restaurant empire-based food truck at the South Street Seaport seven days a week for high-end cuisine representing the well-known restaurants' classics.  Go Burger, Laurent Tourondel's fancy food truck, serves Kobe hot dogs complete with apple coleslaw, spicy German mustard, and pickled jalapenos; as well as a massive range of burgers made from sirloin, short ribs, brisket, and chuck; and lamb merguez sandwiches. Manhattan's foodies and tourists are never let down when in indulging in some of the city's top cooking, prepped daily and cooked to order to ensure freshness. Complete any Go Burger order with a crisp chopped salad, a thick shake, or a refreshing Boylan soda.
South Street Seaport, Pier 17, http://www.goburger.com , http://twitter.com/goburger
NYC Cravings Stop by this pale-yellow truck for some Taiwanese treats to see for yourself why the line forms well before noon. Dumplings, pork chops, fried chicken cutlets, and vegetarian zongzi, a Chinese tamale wrapped with a banana leaf, are just a few favorites offered by Thomas Yang. Each main course item is accompanied with rice, and the sauces offered are just as delicious, including Yang's grandmother's "secret pork sauce," a sweet Beijing sauce, a dumpling sauce, or some spicy sriracha. Catch this truck anywhere from midtown to downtown, depending on the day, but remember, the availability of dumplings varies by location.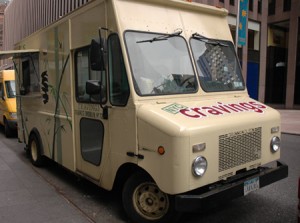 Location varies, http://www.nyccravings.com/ , http://twitter.com/NYCCravings
Patty's Tacos Mexico City-born Patricia Monroy is the hardest working street vendor in the city. Find her famous truck, serving heaping portions of authentic Mexican meals, on Lexington Avenue until late evening and then at Union Square until the wee hours of the morning. Try some of Patty's mouthwatering and filling huaraches, sopes, quesadillas, or the Crazy burrito, filled with chorizo, Mexican cheese, rice, beans, beef, and Patty's special sauce. And if you're brave enough, opt for a tender tongue taco – it's quite the hit and won't leave you disappointed. The Mexican torta, a sandwich including a plentiful helping of avocado, cheese, refried beans, lettuce tomato, onions, jalapenos, and choice of meat, makes a great meal for two – top it off with her famous green sauce, a blend of chilies and cilantro. Patty's Tacos also serves Mexican sodas and yummy cinnamony horchata.
Lexington Ave. between 85th and 86th Streets; Union Square and 14th St.
Rickshaw Dumplings Stop by this healthier alternative Asian food truck to indulge in some Chinese dumplings, in versions varying from chicken and Thai basil, to pork and Chinese chive, and edamame. Based on Chef Anita Lo's original fast-food Rickshaw Dumpling Bar in the Flatiron District, the red truck focuses on mostly steamed dumplings, albeit pricy ones. Add some flavor to these delicious treats with spicy peanut, soy-sesame, or lemon-sansho dipping sauces for some kick.
Location varies, http://www.rickshawdumplings.com , http://www.twitter.com/rickshawtruck
Schnitzel and Things One of Manhattan's most specialized food trucks, Schnitzel and Things is the brainchild of two graduates of the French Culinary Institute, offering authentic Austrian cuisine. Classics include schnitzel (traditional Austrian cutlets lightly breaded and hand pounded), bratwurst, Austrian potato salad, and sauerkraut.  Try a cod, chicken, or pork sandwich with any of the truck's flavorful sauces, including pesto mayonnaise, tartar sauce, olive sauce, or spicy sriracha mayo.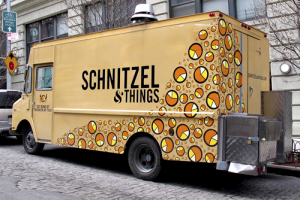 Location varies, http://www.schnitzelandthings.com, http://www.twitter.com/schnitzeltruck
Wafels and Dinges Thomas DeGeest's bright yellow Belgian waffle truck lights up Manhattan's streets with its ever-so-sweet treats. Traditional square Brussels wafels are served, along with more unique round sweeter lieges. Top off any delicious serving with magical Belgian spekuloos, a spread that tastes like crushed up Teddy Grahams, or ice crème to satisfy your sweet tooth. Complete any indulgence with some Belgian whipped cream, fresh strawberries, and delicious iced coffee for a heavenly experience.
Location varies, http://www.wafelsanddinges.com