Ten years ago on September 11 at 8:46am the unthinkable happened.  This Sunday there will be many ways to remember and commemorate and reflect.  Here are a few ideas for creating your own 9/11 10-year remembrance:
Stephen Siller Tunnel to Tunnel Run
Firefighter Stephen Siller's heroism is celebrated every September during the annual NYC Stephen Siller Tunnel to Towers Run in which Stephen's footsteps are retraced from the Brooklyn Tunnel to Ground Zero. Siller was one of the first to arrive at the Twin Towers on September 11, running on foot with sixty pounds of gear strapped to his back, as the Brooklyn Battery Tunnel was closed.  Proceeds from the Run go to the Stephen Siller Foundation which raises money for children who have lost one or both parents, and for firefighter burn victims. This year, the 9th annual NYC run will take place on September 25, 2011. Additionally, for the first time, nearly 50 Tunnel to Towers Runs will take place throughout the country on 9/11, providing communities a similar opportunity to commemorate the day.
11 Tears Memorial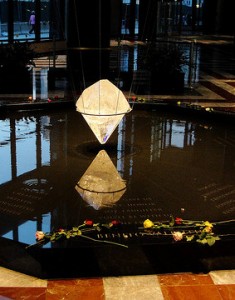 American Express lost 11 employees on 9/11.  Visitors to downtown Manhattan are invited to see a memorial art piece called "11 Tears" located in the lobby of American Express's corporate headquarters in the World Financial Center.  The 11-sided granite piece, created by architect Ken Smith, memorializes the 11 employees with tears falling from the ceiling into each triangle.
Hand-in-Hand – Remember 9/11
Saturday, September 10
8:46am
Lower Manhattan
Thousands of people will form a human chain along the waterfront from the tip of Lower Manhattan heading north in this event sponsored by Manhattan Community Board 1. There will also be a Wall of Remembrance in Battery Park where you can post a message or memento; a portion of this wall will be displayed by the 9/11 Memorial Museum. Pre-registration is required: http://www.handinhand911.org/.
The long-awaited memorial opens this Sunday.  Reservations for entry are on a timed basis and must be made at http://www.911memorial.org/visitor-passes.  A donation is suggested but not required.  Designed by Daniel Libeskind, the memorial is slated for completion in 2014 and is currently surrounded by construction.  Bring proper identification and leave any large bags at home.  No facilities are available.
In these galleries at 120 Liberty Street, adjacent to the 9/11 Memorial site and near the new Freedom Tower, memories and photos of members of the World Trade Center community recount the tragedy and the response of people from around the world.  Tours can be arranged and a $10 admission charge goes towards educational programming and the operation of the Center.  The Visitor Center is a project of the September 11th Families' Association.
Pace University Schedule of Events
Pace University, at One Pace Plaza in downtown Manhattan just five blocks away from the World Trade Center, also had facilities on the 55th floor of the North Tower.  In memory of the 47 student and alumni members lost that day, Pace offers a full schedule of symposium and tributes this weekend.  For details, http://www.pace.edu/paceremembers911/home :
9/11 Memorial Service
Saturday, September 10
11am – 1pm
Schimmel Theatre (Butcher Suite simulcast)
Open to the Public
The Pace community comes together to remember the students and alumni  lost.
Ten Years Later: Voices from a Post- 9/11 Generation Speak
Saturday, September 10
2:30pm -4pm
Schimmel Theatre
Open to the Public
This debut performance is an exploration of the "Post-9/11" generation and aftermath of the September 11th attacks written by 13 young people between the ages of 9 and 21.
Balloon Release
Saturday September 10
3:30 pm (Following football game)
Football Field
Open to all who attend the game
Pace students will release 47 balloons in a symbol of peace and hope and in remembrance of the students and alumni lost on 9/11