Now that it's almost the Fourth of July, the only thing I can think about is being outside.  I will admit that I'm a hardcore gym rat, but I'm certainly willing to trade in my sanctuary to feel the summer sun.   For those like me, there are great  workout options throughout the summer in one of my favorite NYC spots, Central Park.   Grab some sunscreen and water, bike or walk over, and enjoy working out under outdoors.
Pilates (P) in the Park:  Known affectionately as P in the Park, this outdoor workout is led by James Darling, mixing laughter and exercise to get you going first thing Sunday morning.  Darling's original sense of theatrical teaching will keep you smiling as you sweat through side planks, Pilates push-ups and Supermans.  The sessions are donation-based, with half of the suggested $10 contribution going to the Central Park Conservancy.   For one hour, under a tree on the Great Lawn, you'll work on increasing flexibility, toning, and strengthening.  Bring a mat, towel and water. 
Classes meet by Cleopatra's Needle, at 10:15am behind the Metropolitan Museum of Art.   Contact James at James@Darlingfit.com for additional information and to RSVP.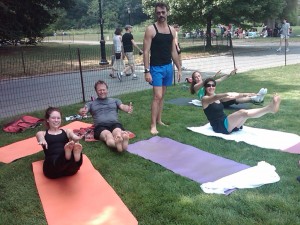 Central Park Yoga:   Who needs to sleep late on Sundays when you can kick start your day with an amazing outdoor yoga practice at 10AM?  Join instructor Lisa Langer as she guides you through a series of downward dogs and warrier ones in front of the Delacorte Theater.  Lisa's approach is highly interactive, encouraging personal development and consciousness.   You'll enjoy her warmth and spirit as you do a tree pose while gazing out over beautiful Turtle Pond.   Tuesday night sessions are also available at 6:30 PM with Lisa or fellow instructor Jonathan Shoemaker. Hour-long sessions are $10 and require that participants bring their own mats.
Meet at 81st Street and Central Park West, www.centralparkyoga.com.  For information, contact lisa@centralparkyoga.com.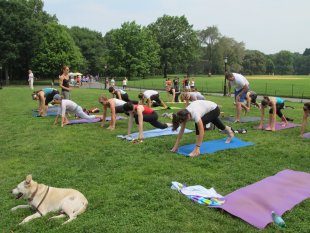 Tanilates:  If you're already toning up, why not tan too?  Laura Ashley Winelander, a Manhattan Pilates instructor and dancer, leads students in a classical Pilates mat class every Saturday at 9AM and 1PM.  Improve your alignment and strengthen your core while bronzing your skin for that perfect summer glow.   Supermans, open leg rockers, and 100s never felt so good.   Class is 55 minutes and requires participants to bring their own mats, towels, and sunscreen.   Classes are $15 each.
Meet to the left  just inside the 72nd Street East Side entrance, off Fifth Avenue, www.tanilates.com. RSVP to lauraashleypilates@gmail.com.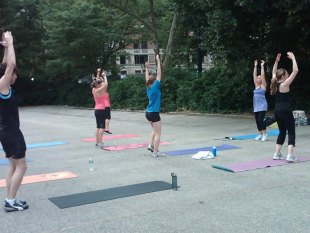 Stacy Berman Boot Camp: To really "feel the burn," sign up for a series of workouts with workout guru, Stacy Berman.  Stacy's Boot Camp caters to everyone and helps you tone, lose weight, and increase endurance with "boot camp" exercises like push-ups, jumping jacks, and climing stairs.  Stacy incorporates strength, cardio, flexibility, core, and experience training into each customized program.  Boot Camp-Yoga Fusion classes are also offered for those wishing to combine an intensive gym routine with a yoga practice.   Stacy's classes are designed to kick butt, but she encourages you to do what you can, recognizing who you are and what you're capable of, and they're always fun.  Prepare to get very, very sweaty.
All classes are three weeks long.   Boot Camp classes are held on Mon, Wed, and Fri at 5:30 AM or 6:30 PM; Mon, Tues, and Thurs at 7 AM; and Tues and Thurs at 7:30 PM. There's also a mid-morning class at 10 AM.  Boot Camp-Yoga Fusion classes are Mon and Wed at 6:30-8 PM or Wed and Fri at 6:45-8:15 AM.  Bring your own mat.  Prices range from $275 to $325 per program.
Contact Stacy for each week's location, www.stacysbootcamp.com, stacy@stacysbootcamp.com, (646)-537-5466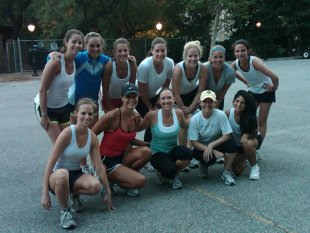 Brooke Marrone's Park Workouts:   Regarded as one of 2009's "Best New Indoor and Outdoor Workouts" by Vogue, Brooke Marrone's hour-long classes are a challenging mix of cardio and conditioning.   Participants who hate the treadmill will enjoy the half-hour run around Central Park's beautiful reservoir or the Great Lawn,  followed by a half-hour workout of mat Pilates and other conditioning exercises.   Brooke is certified in both personal training and Pilates and takes a personalized approach by dividing participants into groups based on ability or experience.  Including great music and Brooke's non-stop ability to motivate with humor included,  the program includes four classes for $100.  Participants are asked to bring their own water, towel, and mat.
Contact Brooke for exact dates.  Please note that the format changes to a more personal training orientation starting in July.
Meet at Tavern at the Green parking lot at Central Park West and 67th Street.   Email Brooke to RSVP at brooke@brookemarronefitness.com, 508-981-6804