To celebrate the Spring/Summer season at The Tavern on the Green Food Truck Terrace, four food trucks — Ladle of Love, Pera Turkish Tacos, Rickshaw Dumplings, and Van Leeuwen Ice Cream — will resume daily operations (seven days a week from 11am until dusk) with exciting festivities on Saturday, April 16 (rain date Sunday, April 17) at Tavern on the Green in Central Park.  New Yorkers can enjoy an afternoon of lively music and free food.  Each truck will be treating attendees with complimentary menu items—one free dish per person per truck.  The Blue Vipers of Brooklyn will be performing, entertaining diners with their signature upbeat jazz, swing and blues.  The re-opening celebration is the first of such programs in this location.  Events such as cooking demonstrations featuring celebrity chefs, live performances by a variety of entertainers, and family-oriented activities are planned for the park-going season.
The Tavern on the Green Food Truck Terrace is located in the courtyard of Central Park's Tavern on the Green Visitor Center & Gift Shop (67th Street and Central Park West).  The Food Truck Terrace, across Park Drive from Sheep's Meadow, seats more than 200 in a landscaped garden setting and is anticipated to be one of Central Park's most popular destinations this summer. For more information on the trucks and upcoming events, please visit their respective websites or www.centralpark.com/events.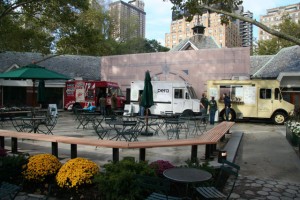 Since 2003, Ladle of Love has served locally sourced, gourmet take-out food from its electric hybrid, zero-fuel emissions truck.  In October 2010, Ladle of Love began serving Central Park goers with its low-and-slow cooked soups and stews, and freshly made salads and sandwiches. www.ladleoflove.com/tavern.html
Pera Turkish Tacos is an exclusive extension of Pera Mediterranean Brasserie, the highly acclaimed midtown restaurant, located only at the Tavern on the Green Food Truck Terrace.  The truck's cuisine finds its roots in the centuries-old Turkish tradition of savory crepes while paying homage to the Mexican heritage of the owner's wife.  Pera Turkish Tacos serves taco staples such as smoked lamb, lavender-honey chicken, and spicy shrimp wrapped in flour or zucchini pancakes as well as a selection of sides, desserts as well as Turkish coffee.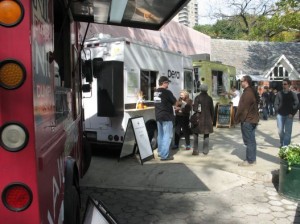 www.peranyc.com/tacosatcentralpark.html
Around since 2008, the Rickshaw Dumpling Truck has a rotating menu of nine healthy and flavorful dumplings each paired with its own dipping sauce.  The truck  has won several awards including "Top 10 Street Food in the World" form Travel + Leisure and "Nine Most Eye-Catching Trucks in America" from Elle Décor.
Launched in Spring 2008, Van Leeuwen Ice Cream serves ice cream made in upstate New York using only fresh hormone-free and antibiotic-free milk and cream, cane sugar, egg yolks, and the finest flavor ingredients from small producers around the world.  The truck serves 15 flavors of ice cream, banana splits, root beer floats, hot fudge sundaes, house-made pastries, Organic Rishi Teas, and Intelligentsia coffee and espresso drinks.