Part II:  Staying on the East Side?  Keep the romance cooking with these wonderful Valentine's Day restaurants, also fabulous for dining all year long.
Zengo: Chef Richard Sandoval's eclectic midtown restaurant will spice up on your evening with its Latin-Asian blends and flavors. The three-course Valentine's Day menu is priced at $60 per person with starters including steamed scallop dumplings, baby beet salad, short rib coca (Spanish flat bread), and Peruvian seafood chowder.  Entrée choices include the wok-fried whole fish, grilled hanger steak, Madre y Higo free-range chicken breast, and crispy tofu.  Knowing that Valentine's Day is incomplete with some form of chocolate treat (think: passion-and-chocolate food connection of Like Water for Chocolate).  Zengo serves up two chocolate desserts for the evening, chocolate truffles with tequila, passion fruit, coconut, dulce de leche and rum; or a warm chocolate soufflé with Grand Marnier crème anglaise and fresh whipped cream.   Your evening doesn't have to end with dinner, though.  Head downstairs to the fabulously sexy Tequila Library or upstairs for a serene sake experience for the perfect nightcap.
622 Third Ave; 212-808-8110; www.richardsandoval.com/zengony/
David Burke Townhouse: A beautiful Upper East Side townhouse is the setting for Executive Chef Sylvain Delpique's seductive three-course Valentine's Day menu. The $89 menu starts with a tuna tartare amuse, followed by a choice of six appetizers including Thai lobster-tomato soup, pretzel crusted crab cake, and beef tongue wrapped oyster brûlée.  Seven entrees are offered ranging from turbot au poivre to NY strip loin and oxtail dumplings, grilled head-on prawns, and red snapper and crab tortellini.  Dessert on Valentine's Day is a highlight with most desserts featuring something red.  Try the hot strawberry shortcake sundae or strawberry tart with sweet balsamic ice cream, or move away from red to risqué with the "Better than Sex" chocolate mousse.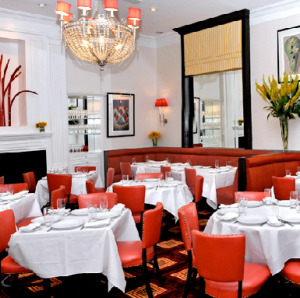 133 East 61st Street; 212-813-2121; www.davidburketownhouse.com
DBGB: At Daniel Boulud's NoHo brasserie-meets-tavern DBGB, you'll enjoy Chef Jim Leiken's three-course Valentine's Day menu for $55 per person. Choose from an extensive choice of hot or cold appetizers, entrees and desserts reflecting the chef's penchant for comfort food around the world.  Seafood and meat selections feature on each course.  Try the pâté campagnard, rillettes de jamboneau Provencal, sautéed Burgundy snails, or winter squash soup to start, followed by an entrée of steamed Prince Edward Island mussels, steak frites, Niman Ranch pork loin schnitzel, or a signature Daniel Boulud burger. Desserts are equally comforting including a "loaded" ice cream sundae, coconut and banana cupcake, and Baked Alaska for two.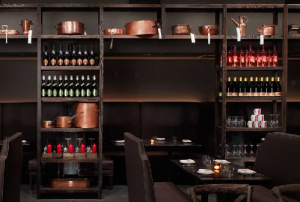 299 Bowery; 212-933-5300; http://www.danielnyc.com/dbgb.html
15 East: You'll fall in gastronomic love with Chef Marco Moreira's superb Japanese cuisine at this intimate Union Square jewel.  For Valentine's Day, the restaurant offers fish flown in several times a week from Japan and other Japanese delicacies in a five-course wine-pairing menu for $120.  You'll start with Hassun, the chef's surprise appetizer and then choose either the sashimi omakase or soba with seasonal tempura; a sushi omakase or ribeye of Texas Mishima beef; and a choice of five desserts.  You can extend the splurge even further with 15 East's three-way spiny lobster menu for an additional $120 per couple where the lobster is presented to the table live, transformed into ice-cured sashimi, incorporated cooked into a savory egg custard with shark fin, and infused into a bouillon of lobster with tomalley and white miso.  
15 East 15th Street; 212-647-0015; www.15eastrestaurant.com
Millesime: Chef Laurent Manrique's striking new seafood brasserie inside the Carlton Hotel joins the Valentine's Day festivities with two tasting menus of French seafood and meat specialties.  Priced at $65 and $85, depending on number of courses, the menus feature appetizer selections from the restaurant's extensive seafood menu including Kumamoto oyster and pancetta scallop lollipops, or clam chowder with smoked bacon and parmesan popovers.  Entrees include filet mignon, Scottish salmon, black sea bass and lobster pot au feu.  Recognizing that chocolate is a must on any French menu, the Michelin-starred chef offers a Valentine's coeur au chocolat with chocolate hazelnut mousse and raspberries.  For a more intimate touch, Salon Millesime will also offer a "Duet" package for $60 per person, where you and your date can enjoy sharable finger foods as well as a complimentary glass of champagne while enjoying the sounds of live jazz.
Carlton Hotel, 92 Madison Avenue; 212-889-7100; www.millesimerestaurant.com/