George Bernard Shaw once said "there is no love sincerer than the love for food."  In keeping with this, I present my list of top restaurants for celebrating Valentine's Day this year, places where you're sure to believe the chef is Cupid himself. If you can't go out on Monday night, keep these in mind for other romantic dining experiences all year long.
Part I:  On the West Side, I suggest these restaurants to wow your sweetheart.
Lincoln:  Overlooking the beautiful reflecting pool and sparkling redo of Lincoln Center, you and your Valentine will enjoy a romantic meal with Chef Jonathan Benno's exciting Italian cuisine in new destination-restaurant Lincoln.  Order à la carte or select the restaurant's seven-course tasting menu for $110, offered with a wine pairing for an additional $75 per person. In the glass-walled dining room with its dramatic sloping ceiling, you'll enjoy a front-row seat to the dazzling open kitchen. The chef's tasting menu for Valentine's Day is a secret but look for selections from Lincoln's superb menu such as the signature duo-bowl with handmade pastas prepared with ingredients like beets (casonsei), sardines (spaghetti), and sea urchin and peekytoe crab (linguine). Or the colorful yellowfin tuna tartare, adorned with olives, radish, fennel and hint of chilies. Exquisite main courses might include baked branzino in salt, set on chickpeas with tomato, or red-wine braised short ribs with barley and black trumpet mushrooms.  Be sure to leave room for the almond and chocolate tortino with slivers of chocolate mousse and a dollop of refreshing mint chocolate chip gelato.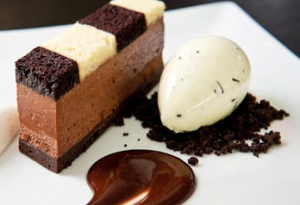 142 West 65th Street; 212-359-6500; http://www.lincolnristorante.com/
Graffit: Originality and romance are in the air at the Upper West Side's newest spot for gastronomy, Graffit.  On a quiet side street, the funky mural-adorned restaurant offers the best of Madrid with Chef Jesús Núñez's unmistakable flair.  Colorfully presented entrées and tapas, inspired by the chef's days as a graffiti and fine artist, set the tone for the evening, inspiring your own participation in the creative experience.  Choose from a wide selection of tapas and main courses, each one a work of art.  Highlights include the aptly named "not-your-average egg" served in a seasonal vegetable stew; savory beef cheeks served with banana polenta, hazelnuts, and spicy plantain chips; and tortilla de patatas, the traditional Spanish potato omelet served non-traditionally in a martini glass.  The grand finale is the Graffit Dessert, where you'll design your own Valentine special from a palette of ingredients: a chocolate molten cake, a plate of fruit purées, and melted dark and white chocolate in squeeze bottles.  Design. Create. Eat.  Delicioso!
141 West 69th Street; 646-692-8762; http://www.graffitrestaurant.com/
Bar Basque: For a truly sexy Valentine's Day, stylish newcomer Bar Basque atop the Eventi Hotel in the Flower District is the place to go for à la carte menu options with a Spanish twist.  Chef Yuhi Fujinaga invites you to relax and enjoy with a complimentary glass of cava.  Specials will be offered in addition to the extensive tapas and pintxos (Basque small plate) choices.  Try the oysters with txakoli sangria gelée, or mackerel in escabèche to start followed by heartier offerings like a one-and-a-quarter pound Maine lobster with beurre rouge, or the Bar Basque Surf and Turf combo which adds an 18-ounce Creekstone dry aged prime New York Strip.  Create your own wine pairing with any of the 32 wines-by-the-glass from Bar Basque's EnoMatic wine system.  Before or after dinner, cozy up with your Valentine in the romantic lounge over pitchers of red berry txakoli sangria and complimentary red beet meringues with goat cheese.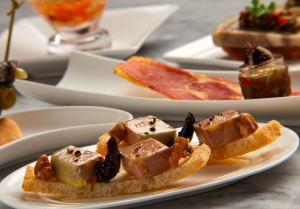 839 Avenue of the Americas; 646-600-7150; www.chinagrillmgt.com/restaurants-and-bars/bar-basque
Fish Tag: Do you love wine but your sweetie prefers beer or whiskey?  Fish Tag, Chef Michael Psilakis' new seafood restaurant, is offering three five-course pairing menus to please everyone.  The Beer Lover menu is priced at $65 and includes grilled prawn, feta and spicy chilies bruschetta; fried pigs' feet croquettes; smoked octopus; trofie; and an acacia honey gelato and Mother's Milk stout float.  Accompanying selected beers include local and international regional choices such as Coney Island Albino Python White Ale, Weihenstephaner Hefeweiss and Stone IPA. Wine lovers have a $75 menu with sea urchin in ocean water, sturgeon salad, sheep's milk dumplings, grilled swordfish sausage, and a selection of cheeses.  Pairings span the world with a Japanese sake, an Alsatian pinot noir, French and Italian reds, and a Portuguese Port.  The third option, an unusual spirits loversmenu, is priced at $85 and features a selection of charcuterie, smoked octopus, Bouchot mussels and spicy lamb, a lamb burger, and a bourbon spiked milk shake. Enjoy this menu with Pyrat Xo Reserve rum, Mezcal Illegal Joven, Ardbeg 10-year Scotch, and Mitchers Rye.   I'll drink to Valentine's Day any time!
222 West 79th Street; 212-362-7470; www.fishtagrestaurant.com