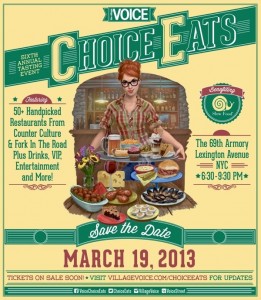 I can't wait.  Village Voice's Choice Eats event on March 19 is my go-to event for NYC foodies.    This year marks the sixth version of this annual tasting event, which takes place at the 69th Armory at 68 Lexington Avenue (26th Street) from 6:30-9:30pm.  The 2013 line-up includes an amazing 86 restaurants from the five boroughs (including Brooklyn, of course), all hand-selected by the Voice's food critics Robert Sietsema and Tejal Rao.  New as well as established restaurants are represented, including the delightful Qi Thai Grill from Pichet Ong and Sripraphai, a welcome newcomer in Williamsburg.  Some of my other favorites making repeat appearances are Luke's Lobster (hopefully with lobster rolls, instead of shrimp rolls this year) and Txikito, Alex Raj's Basque-Mediterranean tapas emporium from Chelsea.  As those of you who have attended in the past know, the evening isn't only about food.  There's also a great selection of craft beers, wines, and other alcoholic libations to sample.  Bring a valid i.d., as only 21 and older are admitted.  www.villagevoice.com/choiceeats
While tickets aren't easy to get, you might do best if you show up at the Armory and get a cancellation on the spot.  Plan to get there early as the line snakes around the block with hungry hopefuls.  You won't want to miss the incredible line-up.  VIP tickets allowing early access are long sold-out, but you never know.
If you are among the lucky ones to enter, here are some strategies for making your evening a successful one:
Scout out the stands (or map) before you "attack."  There will be lines for all of them, so it's good to have a plan so you don't miss out on your favorites.
Go with a friend.  You can "divide and conquer" two lines at once this way.  Pick up two plates at each stand, or, eat "smart" and share each plate (then you can try more samples).
Alternate food with drink, but please eat first, as you want to enjoy the full variety choices available.
Don't stuff yourself silly within the first fifteen minutes.  You won't have room to try 86 samples that way!
Participating restaurants:
606 R&D, Allswell, Ample Hills Creamery, Anella, Banana Leaf, Beecher's Handmade Cheese, BITEME Cheesecakes, Black Shack Burger, Bobwhite Lunch and Supper Counter, Brooklyn Brine, Brooklyn Cured, Brooklyn Kolache, Buka, Butter and Scotch, Butter Lane, Carlo's Bakery, Chinese Mirch, Danny Macaroons, David's Brisket House, Del Posto, Dirt Candy, Ditch Plains, El Almacen, EMVI Chocolate, Exchange Alley, Fanny, Fay Da Bakery, Fletcher's Brooklyn Barbecue, Grandaisy Bakery, Home By The Range, Jimmy's No. 43, Joe Dough, John Brown Smokehouse, Juliette, Kaia Wine Bar, The Kati Roll Company, Kuma Inn, La Morada, La Newyorkina, La Slowteria, Landbrot Bakery, Le Midi Bistro, Liddabit Sweets, Littleneck, Lucky 777 Chili, Luke's Lobster, Mable's Smokehouse & Banquet Hall, Maima's Liberian Bistro, Max, Mexico Lindo, Mooncake Foods, Mrs. Dorsey's Kitchen, No. 7., Nom Wah Tea Parlor, OveliaPsistaria, Ovenly, Parish Hall, Peanut Butter & Co., Peppa's Jerk Chicken, Pete Zaaz, Pig & Khao, Porchetta, Pulino's Bar and Pizzeria, Qi Thai Grill, Red Hook Lobster Pound, Resto, Robicelli's, Rosamunde Sausage Grill, SCRATCHbread, Sigmund's Pretzels, Spicy Bampa, Swine, S'more Bakery, Tabata Noodle Restaurant, Telepan, The Blue Stove, The Good Batch, The Meatball Shop, Thirty Acres, Txikito, Woodland Xe May Sandwich Shop, Yemen Cafe & Restaurant, Yunnan Kitchen, Zenon Taverna, and Zucker Bakery.