New York is a walking city.  Skip the traditional (and often overly touristy and factually incorrect) bus tours or duck tours and opt to hoof it the way the locals do.  Here are some creative ways to explore and learn the city on foot.
Big Onion Walking Tours
Various Dates and times
At Big Onion Walking Tours, you choose the adventure you'd like to go on. Offering tours since 1991, this company takes visitors to just about every neighborhood in Manhattan, from Harlem to the historic Lower East Side. Themed tours are also available including The "Official" Gangs of New York Tour and Revolutionary New York. Most tours do not require reservations. The Multi-Ethnic Eating Tour introduces guests to the cuisine of the Jewish East Side, Little Italy and Chinatown.  Reservations for this special tour can be made at http://www.bigonion.com/.  All tours run rain or shine unless the weather is truly inclement.  Tours last approximately two hours and cover between one and two miles at a moderate walking pace.  Call the hotline (888) 606-WALK (9255) ext. 1 after 9:30 a.m. to confirm the day's schedule and any cancellations or changes.  Price: $15 for adults; $12 for seniors, students and members of the New York Historical Society
Multi-Ethnic Eating Tour- $5 extra
Context Tours
Various dates and times
For an intimate and intelligent tour experience, sign up for one of Context Tours' 14 art, archeology and architecture walks to explore NYC's dynamic neighborhoods in a small group with six or fewer participants.  All led by Ph.D.-level scholars and historians, walks cover NYC art galleries and museums including the Met, the Cloisters, the MoMA, the Frick and the Morgan Library; and buildings and archeology of the city. Foodies can opt for a cuisine walk such as The Chocolate Affair Walk, which explores how chocolate transforms from bean to candy bar, or an in-depth exploration of Manhattan's immigrant experience with a tour through Little Italy and Chinatown.  Reserve your spot at http://contexttravel.com/city/New_York.
Price: $50-75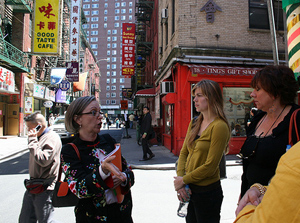 Wild Food and Ecology Tours and Talks
Various dates, from 11:45 am - 3:45 pm
Go foraging with naturalist "Wildman" Steve Brill and learn about the diverse, edible and medicinal wild plants and mushrooms that live right inside NYC's parks. Destinations include Central Park and Inwood Hill Park (Manhattan), Prospect Park (Brooklyn), and Forest Park (Queens).  Tours are donation-based. Call 914-835-2153 to reserve your spot at least 24 hours prior to your desired tour. For more information, visit http://www.wildmanstevebrill.com/.
Price: Suggested donation of $15 for adults; $10 for children under 12