Part IV focuses on the busy, shopping hub of the city, Midtown, where Thanksgiving mixes with Christmas decorations galore.
Midtown West:
BLT Market: BLT Prime's sister prides itself on its farm-raised and locally grown ingredients.  The restaurant may be housed in The Ritz-Carlton, but don't be surprised when you see an old plow near the entrance or water being served in milk bottles. The $95 prix-fixe menu includes a choice of three starters (celery root, chestnut, and apple soup; wild mushroom risotto/mushroom cappuccino; and aged goat cheese beignet and duck confit salad); three entrees (roasted turkey with chestnut-sausage stuffing, cranberry-grenadine sauce, rosemary gravy, garlic mashed potatoes, Brussels sprouts; dry aged roasted prime rib with confit garlic jus and caramelized onion and bacon popover; and bacon wrapped wild salmon); and four desserts (chocolate feuilletine rocky road; McIntosh apple cake; caramelized Meyer lemon crepe soufflé; and hazelnut pumpkin pie).
(The Ritz-Carlton New York) 1430 Avenue of the Americas; 212-521-6125; http://www.bltmarket.com/
Midtown East:
Brasserie: For a true NYC experience, head to the Seagram building where you will find Brasserie, an icon in the NYC restaurant scene since 1959, notable for both its cuisine and its striking design. Feast over Chef Luc Dimnet's elegant menu with influences from his native region, Alsace. The three-course menu is $46 per person. Appetizers include acorn squash soup, petite onion soup gratinée, butternut lettuce salad, duckling confit, and wild mushroom crepes. Entrees include roasted turkey, Scottish salmon, divers sea scallops, pumpkin and forest mushrooms risotto, and roasted prime rib of beef. End with a scrumptious pumpkin tart, apple tart, or pecan tart.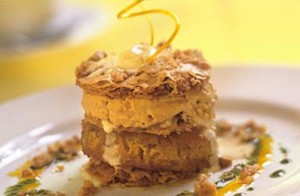 100 East 53rd Street; 212-751-4840; http://www.patinagroup.com/restaurant.php?restaurants_id=55
Pera: Enjoy your turkey day in NYC's favorite Turkish restaurant. The three-course menu will be offered for $49 per person. Start with the pumpkin flatbread, Thanksgiving pumpkin bisque, or grilled kale Caesar salad before diving into the traditional roasted organic turkey with caramelized Brussels sprouts, chestnut sausage stuffing, and cranberry sauce; honey-lavender glazed stuffed leg of lamb stuffed with seasonal dried fruits, pine nuts, rosemary, and feta-cheese potato gratin; or hickory grilled wild salmon with preserved lemon, crispy fried oysters, roasted tomato, and pickled onion relish. Enjoy a slice of pumpkin pie with cinnamon whipped cream or a chocolate brownie sundae for dessert.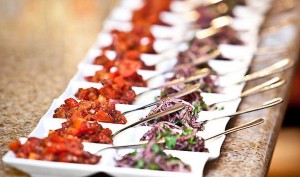 303 Madison Avenue; 212-878-6301; http://www.peranyc.com/
Fiorini: Feel as if you're stepping into Lello Arpaia's native home in Naples, Italy as you enter his charming restaurant featuring Italian regional classics. The four-course meal is being offered for $42 per person and includes a choice of ravioli (butternut squash filled ravioli, light brown butter sauce, shaved Parmigiano cheese) or roasted corn squash soup with crab meat; a choice of salad; roasted free range turkey with gravy, fresh cranberry compote, whipped sweet potatoes, harvest wild rice with mushrooms, sage stuffing, and honey glazed carrots; and a slice of pie (pecan, apple, or pumpkin) or fresh fruit.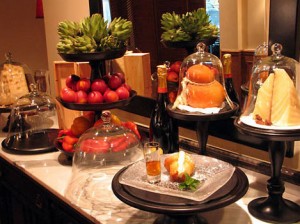 209 East 56th Street; 212-308-0830; http://fiorinirestaurant.com
L'Atelier de Joël Robuchon: For an elegant and grand Thanksgiving celebration, the Four Seasons Hotel is where Chef Xavier Boyer, personally trained under Joël Robuchon, steals the show. The Thanksgiving menu will be offered for $155 per person and a wine pairing can be added for an additional $85 per person. The menu includes La Chattaigne (chestnut velouté, smoked cream with celeriac and cardamom), Le Saint Jacques (scallop cooked a la plancha with truffle jus and butter-braised leek julienne), La Volaille (blue foot chicken ballottine stuffed with foie gras, sautéed mushrooms, and truffle), Le Chevreuil (venison medallion, poached pear in red wine, and sweet and sour sauce), Le Potimarron (pumpkin mousse with crunch pecan nuts and cinnamon ice cream), and Le Café Express (espresso coffee served with nougat).
57 East 57th Street; 212-785-5700; http://www.fourseasons.com/newyorkfs/dining/l_atelier_de_joel_robuchon/
Want more?
Thanksgiving in Hell's Kitchen, Times Square and Uptown
Thanksgiving in Union Square, Gramercy and Chelsea
Thanksgiving in Downtown NYC, the Village, and Meatpacking District
Thanksgiving in Brooklyn