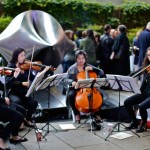 This is a weekend to eat, eat, and eat… for a good cause.  The New Taste of the Upper West Side is where you want to head to sample the best of the many chefs that have taken this part of the city by storm.  The food festival presents two days of culinary extravaganzas, all located under the big white tent on Columbus Avenue between 76th and 77th streets. The annual event, created by the Columbus Avenue Business Improvement District, donates all net proceeds to the local community for neighborhood improvement and beautification projects. Tickets are available at www.newtasteuws.com.  When purchasing two tickets to any one event, a special "twofer" discount applies.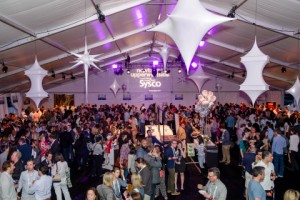 It's 'Friday night live' does Jimmy Fallon, culinary style, at the evening's "Comfort Classics" competition.  Forty Upper West Side restaurants will present their most innovative "home-style" creations in an attempt to win the coveted title of "best comfort food dish."  Adam Richman, host of NBC's Food Fighters, emcees the event and will also be signing his new cookbook, Straight Up Tasty. If you book now, you'll also get a chance to win a free copy of Richman's book.  Among the 40 contenders for this evening's event are Upper West Side neighborhood faves Bodrum (Ali Gurman), Elizabeth's Neighborhood Table (Tomas Arenas), Good Enough to Eat (Michele Weber), Insomnia Cookies, Jacob's Pickles (Jacob Hadjigoergis), Momofuku Milk Bar (Christina Tosi), and Virgil's Real BBQ (Neal Corman).  In addition to the food tastings, creative cocktails, international wines and beer will flow along with the strains of music by the Silver Arrow Band.  7-10pm, $105 per person.
Saturday evening's "Best of the West" is a glamorous night of fine food, wine, beer and spirits, all created by the neighborhood's culinary geniuses.  The evening is hosted by Marc Murphy, chef and owner of Landmarc (Columbus Circle) and Ditch Plains (named after the famous beach at Montauk), and judge on Food Network's Chopped, along with Anne Burrell, co-host of Food Network's Worst Cooks in America. Musical accompaniment will be by Joe Battaglia and the 16-piece New York Big Band.  Two tiers of tickets are offered:  a VIP Reception which includes exclusive lounge access, a champagne and beer bar, gift bags, and signed cookbooks from Murphy and Burrell beginning at 6:30pm; or general admission at 7:30pm.  Tastings from 45 restaurants and food purveyors include such notables as Boulud Sud (Travis Swikard), Dovetail (John Fraser), Jean-Georges (Jean-Georges Vongerichten), Parm (Rich Torrisi), RedFarm (Joe Ng), Tavern on the Green (John Stevenson), Tessa (Cedric Tovar), and The Smith (Glenn Harris).  VIP reception: 6:30pm, continuing until 10pm, $225 per person. General admission: 7:30-10pm. $135 per person.