You know it's truly spring (and almost summer) when food truck events kick into high gear.  This weekend marks the start of the beloved Brooklyn Food Truck Rally in Prospect Park.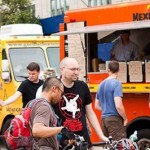 On Sunday April 14, head to Grand Army Plaza for some of the best outdoor eats in New York. Brought to you by the NYC Food Truck Association in conjunction with Prospect Park, the Food Truck Rally will be held from 11am-5pm, with dishes representing the diversity of the city's cuisine and population. (Other food truck events are scheduled through the fall on 4/26, 5/3, 5/17, 6/7, 6/28, 7/12, 7/19, 8/2, 8/16, 8/30, 9/20, 10/4, 10/18).
Twelve to sixteen trucks will participate per event including Andy's Italian Ices, Brooklyn Organic, Carl's Steaks, Carpe Donut NYC, Coolhaus, DUB Pies  - The Pie Truck, Gorilla Cheese NYC, Kelvin Natural Slush Co., Kimchi Taco Truck, Milk Truck, Neapolitan Express, Nuchas, Papaya King, Phil's Steaks, Ponti Rossi, Red Hook Lobster Pound, Snowday, Taïm Mobile, Toum and more.
Some of my favorites: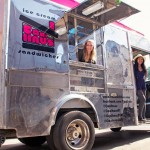 Hailing from LA, the Coolhaus ice cream-sandwich truck has entrenched itself into New York City foodie culture. Coolhaus has an "out there" menu of all-natural handmade ice creams of classic and seasonal varieties with flavors like horchata (vegan), dirty mint chip, and lychee martini, packed between two cookies that are equally as creative (think gluten-free peanut butter miso or red velvet, for example).  All this comes wrapped in an edible paper made of potato with soy ink.  How cool is that!  http://www.eatcoolhaus.com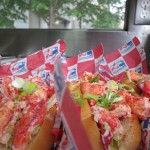 Another truck shaking up the food truck world again, Red Hook Lobster Pound brings its Big Red truck to Prospect Park.  With lobster bought fresh from Maine every week, the Pound's lobster rolls are sweet and delicious and served correctly, IMHO, on a J.J. Nissen roll from Portland, Maine. You can add a sweet finale with another Maine delicacy, homemade whoopee pies.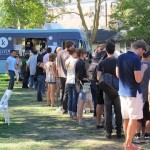 This continues to be one of my absolute favorites and one with some of the longest lines of all (a hint: head there first).  With their distinctive slush flavors including Spicy Ginger, Tangy Citrus or Green & Black Tea, combined with your choice of real puréed fruit, fresh chopped mint and basil, pomegranate seeds and other natural mix-ins, Kelvin's all-natural slushies are the perfect accompaniment to the day.  If they're offering their "special" of the day, definitely go for it.  And, happily, it's another blue truck!  http://www.kelvinslush.com/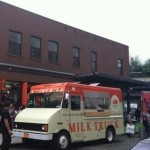 If you're hungering for a taste of your childhood, or if you brought kids with you, the Milk Truck is the place for you. Serving up delicious, fresh grilled cheese sandwiches, the Milk Truck has a varying menu of sandwiches, some purely cheese and others with ham and other goodies thrown in.  http://www.milktruckgrilledcheese.com