The food truck craze continues all summer long in Manhattan and Brooklyn. Mad Sq. Eats may be over, but celebrated chefs from around the world are still serving up signature dishes with a twist through October. This batch of food truck festivals includes events every day of the week. The lines can be long, so it's best to arrive early (or bring a lot of patience).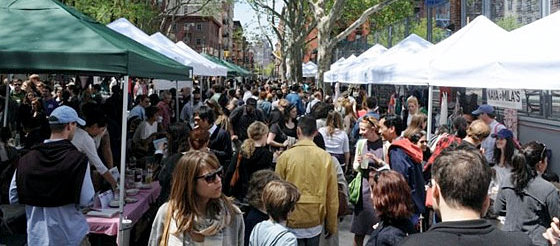 The marketplace at the Hester Street Fair in Manhattan's Lower East Side will keep you busy with its vintage clothing, jewelry, crafts and home goods, but you have to eat, right? Artisanal is the mode here as you create your own s'more from S'amore or indulge in a local fave, the cuppie, a cupcake with cookie dough baked into the middle from It's a Cuppie . Sticking around for dinner? Get adventurous with Jambalaya Balls topped with dirty gravy at Exchange Alley, paired with a thirst-quenching sweet tea or cayenne lemonade. Check out the full list of this year's participating vendors here: http://www.hesterstreetfair.com.
When/Where:
Saturdays through October 26 from 10am-6pm; corner of Hester St. and Essex St.
The creators of Smorgasburg have set up shop in South Street Seaport with SmorgasBar, a pop-up aimed at revitalizing the area post-Sandy. SmorgasBar adds two full bars serving up local and other beers, wines and spirits so you'll have something to wash down one of Milk Truck's (http://milktrucknyc.com/) weekly grilled cheese specials, or fresh oysters from Brooklyn Oyster Party (http://brooklynoysterparty.com/). If you're looking to beat the summer heat, try a slushie from Kelvin Natural Slush Co.
When/Where:
Sunday-Thursday from 11am-10pm, Friday and Saturday from 11am-11pm; Front St. and Fulton St.
Participating Smorgasburg vendors:
Asia Dog
Blue Marble Ice Cream
Brooklyn Oyster Party
Brooklyn Soda Works
Fonda
Kelvin Natural Slush Co.
Landhaus
Milk Truck Grilled Cheese
Pizza Moto
Red Hook Lobster Pound
Rice & Miso Everyday
After sightseeing in Prospect Park, grab a bite at the Food Truck Rally in Brooklyn's historic Grand Army Plaza. Several Manhattan food truck staples, including Van Leeuwen and Wafels & Dinges , are in this year's lineup, so you can finally try all the treats you've hurried past on your way to work while you have the chance to relax.
When/Where:
First and third Sundays through October 20, from 11am-5pm; Grand Army Plaza in Brooklyn (note: event will take place September 8 instead of September 1)
Participating Vendors:
Andy's Italian Ices
Big D's Grub Truck
Chinese Mirch
COOLHAUS
Eddies pizza
Gorilla Cheese nyc
Green Pirate Juice Truck
Kelvin Slush
Kimchi Taco Truck
Mexicue
Miami Food Machine
Mike n willies
Milk Truck
Morris Grilled Cheese
Mud Truck
Nuchas
Palenque
Phil's Steaks
Red Hook Lobster Pound
Rickshaw
Souvlaki Gr
TAIM MOBILE
The Treats Truck
Toum
Valduccis Pizza
Van Leeuwen
Wafels & Dinges