It's time to move on to our next set of summer cocktail celebrations in the second exploration of the city's single liquor bar craze.  Here are some fabulous one-note venues that will satisfy your taste for something a little heavier than bitters or champagne.
Bourbon
Blue Smoke: If you can pull yourself away from the heavenly smell of barbeque, head straight to the bar and be wowed by the extensive bourbon list. Those feeling overwhelmed by the selection can opt for the bourbon flights including one ounce tastes of Basil Hayden's, Blanton's, Russell's Reserve, Jefferson's Reserve, and Blue Smoke Single Barrel.
116 East 27th Street; 212-447-7733; http://bluesmoke.com/blue/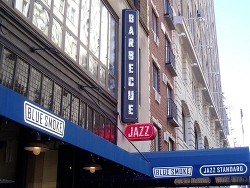 Fette Sau: This Brooklyn hotspot is truly deserving of its repeated "Best BBQ in NYC" designation, but it should be equally recognized for its selection of "America's Native Spirit." Sit at the bar or grab a picnic table and show your New York pride while enjoying Hudson Baby Bourbon, the first bourbon to be distilled in New York.
354 Metropolitan Avenue (Brooklyn); 718-963-3404; http://www.fettesaubbq.com/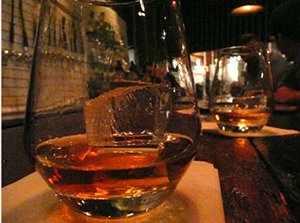 Rum
Cienfuegos: Step into this Cuban-style speakeasy and be transformed into a world of pinks and greens where the rum steals the show. Rums hail from Barbados, Martinique, Fiji, and Guyana—to name a few. Bring some friends along and make sure to order any of the punch bowls with recommendations including the Isla Punch and the Peach Jam. Each of the three-selection rum flights includes specialties aged to perfection such as the High Roller with Ron Zacapa Centerario 25-year, Mount Gay 1703 Old Cask selection, and El Dorado Vintage Reserve 25-year.
95 Avenue A; 212-614-6818; http://www.cienfuegosny.com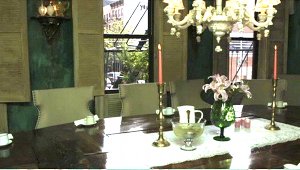 Tequila
La Biblioteca: The basement of Richard Sandoval's Zengo may call out to bookworms, but instead of finding shelves of the classics, explore more than 400 varieties of tequila. Take notes on your favorites while lounging over the wooden library tables or purchase your favorite bottle and store it in your own tequila locker for up to six months. Show your library card to retrieve your bottle and have it served with homemade sangrita or a shaker, sour mix, and salt to design your own margarita. Brush up on your tequila studies on Tuesday nights at 5pm while meeting ambassadors from different distilleries.
622 Third Avenue; 212-808-8110; http://www.richardsandoval.com/labiblioteca/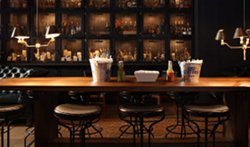 Mayahuel: Celebrate Cinco de Mayo every day at Mayahuel and gain a fine appreciation for tequila. The dark and sexy design is complemented by the smoky Mezcals as well as the inventive tequila-featured cocktails, punches and flights. For an authentic agave experience, try any of the sotol, blanco, reposado, or añejo selections. Traditional bar fare and bites take on a Mexican twist with palomitas (popcorn with lime, cotija cheese, and ancho chili) and croquetas (black bean and plaintain with roasted red pepper or chorizo and cheese smoked tomato).
304 East 6th Street; 212-253-5888; http://mayahuelny.com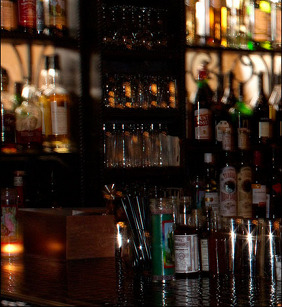 Vodka
Russian Vodka Room: In this Theater District favorite, choose from 53 different featured vodkas or be adventurous and try the Russian Vodka Room's homemade flavor-infused vodkas. The brave at heart can try the horseradish or garlic, pepper, and dill vodkas. A traditional Russian menu accompanies the vodka, with highlights including the Gravlox with potato pancakes, assorted caviar selections, and pan seared veal blintzes.
265 West 52nd Street; 212-307-5835; http://www.russianvodkaroom.com/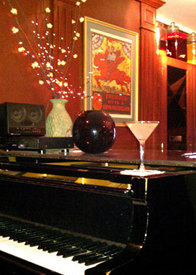 Whiskey
Brandy Library: This TriBeCa favorite does boast a menu with almost any spirit you can think of, but its whiskey offerings are especially impressive. Browse through the 21-page whiskey menu online if you fear the anxiety coming on — you'll find whiskeys from all over the world including selections from India and Japan, definitely enough to make your head spin without even a sip. Make sure to check in with any of the librarians for recommendations and suggestions.
25 North Moore Street; 212-226-5545; http://brandylibrary.com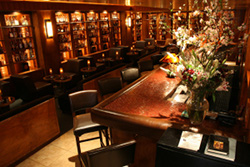 Whiskey Tavern: Whiskey Tavern brings the feel of an authentic tavern to Chinatown with its old wooden booths and floors. Come for the game and enjoy your favorite whiskey with some traditional pub fare. True whiskey lovers should bravely order the pickle back, a shot of whiskey accompanied by a shot of pickle juice.
79 Baxter Street; 212-374-9119; http://whiskeytavernnyc.com/