As the cold weather arrives, it's a lovely time to cozy up indoors with your favorite cocktail in hand.  Here are some of New York City's specialty bars, where you can find your favorite spirit with both familiar and unfamiliar choices.
Bitters
Amor y Amargo: Welcome New York City's first bitters-centered bar, brainchild of the famous bitters company Bittermens and Ravi DeRossi, father of popular liquor bars Mayahuel, Cienguegos, and Death & Co. The intimate space features favorites such as the Negronis and Tequila Gibson, which can also be complemented by an indulgent tapas menu designed by Chef Luis Gonzalez.
443 East 6th St; 646-926-6702; http://www.amoryamargo.com/
Bourbon
Blue Smoke: If you can pull yourself away from the heavenly smell of barbeque, check out the enormous bourbon list at the bar. Those feeling overwhelmed by the selection can opt for the bourbon flights including one-ounce tastes of Basil Hayden's, Blanton's, Russell's Reserve, Jefferson's Reserve and Blue Smoke Single Barrel.  Be sure to ask about the price, though, as some of these are quite expensive.
116 East 27th Street; 212-447-7733; http://bluesmoke.com/blue/
Fette Sau: Brooklyn has its own barbeque joint that also has a sensational selection of bourbons.  Super casual with a heady aroma of baby-back smokiness to accompany your drink, Fette Sau gives you close to 60 choices so you can forego your usual Jack Daniel's or Maker's Mark and sample more unusual sour mash bourbons like Gentleman Jack or the hard-to-find Hudson Baby Bourbon, Rebel Yell or Pappy Van Winkle
354 Metropolitan Avenue, Williamsburg; 718-963-3494; http://www.fettesaubbq.com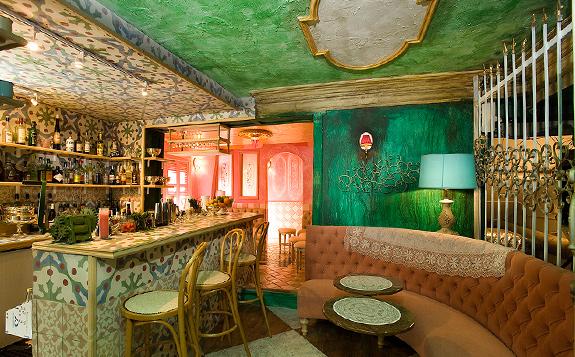 Rum
Cienfuegos: Step into this Cuban-style speakeasy and be transformed into a world of pinks and greens where rum steals the show. Rums hail from Barbados, Martinique, Fiji, and Guyana—to name a few. Bring some friends along and make sure to order any of the punch bowls.
95 Avenue A; 212-614-6818; http://www.cienfuegosny.com
Tequila
Mayahuel: Celebrate Cinco de Mayo nightly at Mayahuel as you gain a fine appreciation for tequila from the ultra-knowledgeable bartenders. The smoky Mezcals, rich reposados and inventive tequila cocktails complement the dark and sexy design.
304 East 6th Street; 212-253-5888; http://mayahuelny.com
La Biblioteca de Tequila: Downstairs from Richard Sandoval's Latin-Asian Zengo restaurant, La Biblioteca is an intimate tequila bar with close to 400 bottles of artisanal and small-batch tequilas.  You can meet some of Mexico's most interesting distillers each Tuesday evening starting at 5pm and talk with them as they pour flights of their specialties.
622 Third Avenue; 212-808-8110; http://www.richardsandoval.com/labiblioteca/index.php
Vodka
Russian Vodka Room: Choose from any of the 53 different featured vodkas, or be adventurous and select from the Russian Vodka Room's menu of homemade infused vodkas with the likes of horseradish, garlic, pepper and dill. To complete the authentic Russian experience, a traditional Russian menu is offered.  We recommend the Gravlax with potato pancakes, caviar (any of them), and pan-seared veal blintzes. This is a perfect place to warm up with a pre- or post-theater.
265 West 52nd Street; 212-307-5835; http://www.russianvodkaroom.com/
Whiskey
Whiskey Tavern: Whiskey Town's newest sister brings the feel of an authentic tavern to Chinatown with its old wooden booths and floors. True whiskey lovers will bravely order the "pickle back," a shot of whiskey accompanied by a shot of pickle juice.  Trust me, if you like pickles, it's really delicious!
79 Baxter Street; 212-374-9119; http://whiskeytavernnyc.com/