If you're not heading to the Hamptons this summer, downtown Manhattan with its cool river breezes is the place to be.  Check out some of these wonderful, mostly free activities happening throughout July and August.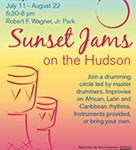 Join a drumming circle every Friday through August 22 in Battery Park City's Wagner Park for Sunset Jam on the Hudson. Along with a master drummer, you can add your own rhythm to a mix of African, Caribbean and Latin pieces. Drums are provided. Wagner Park. 6:30-8pm. www.bpcparks.org
Board the ferry to Governors Island for a day outdoors and a chance to see an exhibit featuring Trisha Brown's early career as an artist and choreographer.  Located at the Manhattan Cultural Council's arts center, "Trisha Brown: Embodied Practice and Site-Specificity" includes videos, photographs and installations, all highlighting Brown's community of performers and artists, and the Lower Manhattan in which they lived and created. The exhibit shows Brown's investigation of movement and performance occurring in non-traditional spaces. Through September 28. Friday and Sunday, 12 Noon-5pm; Saturday, 10am-5pm. http://lmcc.net/event/trisha-brown-embodied-practice-and-site-specificity/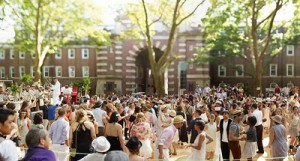 Also on Governors Island, kids will love "From Drills to Drums: Civil War Life on Governors Island, " a program specifically designed for them, with first-hand depictions of the lives of soldiers, civilians and prisoners on the island in the 19th century. No tickets or reservations required. Wednesday, Thursday and Friday throughout the summer, 10:20am and 11:20am. http://www.nps.gov/gois/planyourvisit/things2do.htm
For adults and kids alike, "Hike through History" is a comprehensive tour of Governors Island. No tickets or reservations required. Wednesday and Friday. Meet at Soissons Dock, 2pm. http://www.nps.gov/gois/planyourvisit/things2do.htm .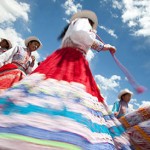 Another favorite for all ages with no admission charge, the National Museum of the American Indian is open daily from 10am – 5pm. The museum offers free films, docent-led tours of its exhibitions and premises, the Alexander Hamilton U.S. Custom House designed by Cass Gilbert. The 1907 building is a National Historic Landmark and is listed on the National Register of Historic Places. One Bowling Green. 212.514.3700. http://nmai.si.edu/home/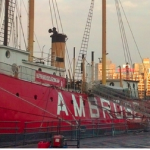 The South Street Seaport Museum's lightship Ambrose and its sailing ship Peking welcome visitors Wednesdays – Sunday, 11am-pm on Pier 16 (on the East River at Fulton Street). The Ambrose, launched in 1908, was used to guide large ships through the Ambrose Channel into New York harbor. Peking was launched in Hamburg, Germany in 1911 to carry goods from Europe to South America. The museum's Visitors Services associates explain the importance of the ships to the history of New York as a port city. $12 (adults); $8 (students, 12-24 and seniors); $5 (children 2-11); under 2, free. http://southstreetseaportmuseum.org/tickets/?utm_source=May+Newsletter&utm_campaign=June+2014+Newsletter&utm_medium.
"Defining Lines: Maps from the 1700s and early 1800s" at the Fraunces Tavern Museum. Twenty-seven maps provide a perspective on the evolving nation's place in history. A map from 1804, never before exhibited, shows the U.S. postal routes. Noon to 5pm, daily. Admission fees: $7; $4 (seniors, students with ID, children, 6 to 8 years old); active military and children 5 and under, free. 54 Pearl Street, 2nd floor. http://frauncestavernmuseum.org/exhibits-and-collections/