New York City excels at creating romantic experiences for lovers all year round. On Valentine's Day, Cupid's Arrow knows no limits. Here are some choices for consideration to wow your sweetheart.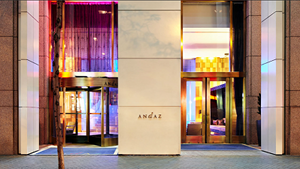 From 8pm – midnight on Valentine's Day, you can search out a love target or murmur sweet nothings to Miley Cyrus's tune while you sip Bar Se7en5ive's signature red-tinged "Wrecking Ball" vodka-and-champagne cocktail at the Andaz Wall Street's fun, love evening.  Spot a perfect valentine, summon the Cocktail Cupid to deliver a "Wrecking Ball" along with a vintage valentine provided in the Connection Caddy, and take your chances.  Anyone who participates will be entered into a drawing to win a night at the hotel with breakfast in bed, drinks on the house, or a cooking lesson for two. 75 Wall Street, Manhattan, 212-590-1234 www.andazwallstreet.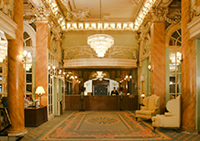 Not single but not necessarily happy?  The Wolcott Hotel wants couples "On the Mend" to enjoy a getaway to resolve marital tensions.
Snuggle and rekindle in a two-room suite – so you each can have your own space if you need it – and read up on counseling literature provided for you, or take advantage of discounted activities like yoga or an aphrodisiacal wine-and-chocolate dinner to get you back on track. 4 West 31st St., Manhattan, 212-268-2900 www.wolcott.com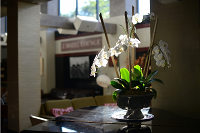 To quote Beyoncé, "all the single ladies" have an option, too: the "Insider Shopping Package" at the Z NYC Hotel, with deluxe accommodations overlooking the Manhattan skyline from the Queens side.  Shop 'til you drop with a customized three-hour shopping tour with a fashion industry pro, followed by cocktails and "show-and-tell" in the Z Lounge. 11-01- 43rd Ave., Long Island City (Queens), 212-319-7000 www.zhotelny.com
Over-the-top is something you can certainly find in Manhattan. And, if money is no object, this one's for you. The Hotel Plaza Athénée on the Upper East Side has a Valentine's Day package for $7400 per night that will put you in one of the hotel's deluxe suites with a private dining room, granite kitchen and townhouse furnishings.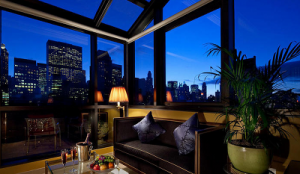 Flowers will surround you throughout as you sip your special bottle of 1999 Cuvée Louise Pommery champagne in your own gold engraved champagne glasses. For even more decadence, you'll also receive a gift of an original Picasso lithograph. And, there's more. You'll enjoy a "Suite Heart" couples' treatment at Spa Valmont in a private treatment suite, starting with a full-body exfoliation and romantic candle-lit steam shower, and ending with a 90-minute massage with rose aromatherapy oil or a Valmont facial. Your breakfast will be served in your suite's dining room, with Valentine's Day red velvet waffles highlighting the opulent menu. Call for availability. 37 East 64th Street, Manhattan, 212-772-0958 www.plaza-athenee.com.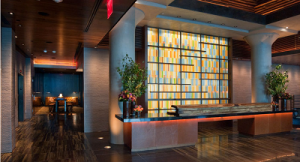 The Kimpton Group is at it again with ultra-sexy two-night packages for a New York City Valentine's Day getaway (or hideaway).  At the Ink48 hotel, you'll pick your desired level of "heat" — low, medium or high — and pick the amenities that are best suited for you. "Low Heat" encourages you to be a "devil with a halo" and visit the Museum of Sex, followed by a retreat to your room to enjoy an aphrodisiac-filled basket of almonds, seeds, bananas, strawberries, red wine and absinthe.  Or turn up the flame to "Medium Heat" and be a "devil with a conscious," reading your gift of "Go Green between the Sheets and Make Your Love Sustainable," or using an array of eco-friendly massage oils after your private in-room wine tasting which includes two bottles of sustainable wines. For the full effect, the "High Heat" package transforms you into a "devil in the centerfold."  Are you a closet exhibitionist? With this package, you'll get a one-hour photo shoot with make-up and styling with a magazine-style book of boudoir photos. In your room, you'll find an iPod pre-loaded with sexy tunes to get you in the mood, along with red wine, chocolates, and two disposable cameras.  Prices for the packages range from $399-$899 per night. To book, info@ink48.com. 653 11th Avenue, Manhattan, 212-757-0088 www.ink48.com.