Manhattan is teeming with great Valentine's Day dining options.  My suggestion?  Grab a reservation, pick up some flowers, and consider a great card and small gift as well.  A perfect evening that's priceless, although not without a price.
For the 14th of February, take a look at 14 of these delicious and varied choices: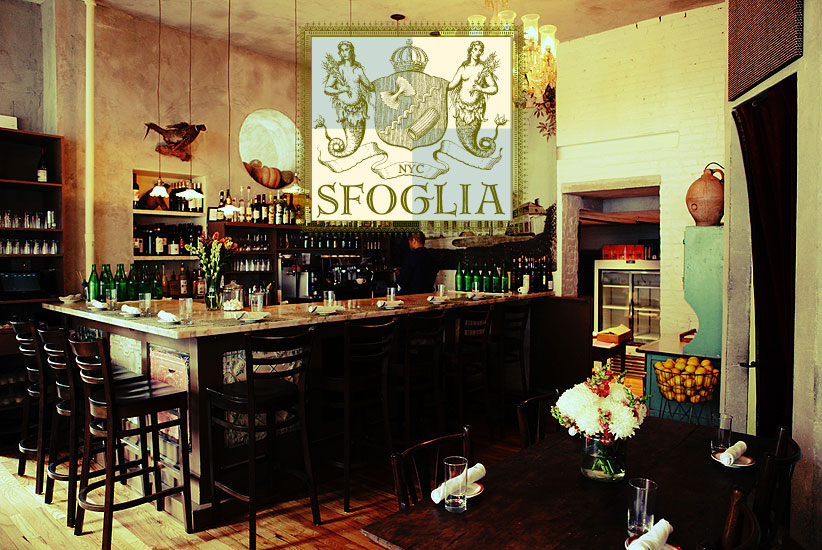 Sfoglia — A restaurant that's a tough reservation to score even on non-holiday evenings, Sfoglia sits across from the 92nd Street Y and offers a "cupid's arrow" four-course prix fixe celebration for $95.  I love this restaurant on a cold night.  It's cozy with its white curtains, homey with its convivial vibe, and always pleasing with wonderful cooking from Chef John Carr.  On Valentine's Day evening they're only serving couples, no matter whether you're sitting at a two-top or at the communal table, so you might actually have a better chance at scoring a table.  Both restaurant favorites and specials are on the menu with the likes of Maine uni with brown bread and house-made butter, buckwheat crespelle with celery root cream and caviar, and spaghetti and ruby red shrimp with Meyer lemon.
1402 Lexington Avenue (at 92nd Street), Upper East Side, 212.831.1402, www.sfogliarestaurant.com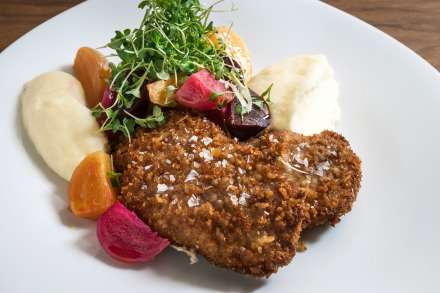 Hospoda – Another warm and inviting UES restaurant, Hospoda shows off Chef Katie Busch's inventive Czech-Bavarian-Austrian fare with a three-course prix fixe menu of yellowfin tuna crudo, prawns seasoned with vaouvan (an Indian spice blend) with cauliflower and Marcona almonds, and a dry-aged ribeye with brandy peppercorn sauce.  Pastry Chef Lukas Pohl's desserts are specially created for the evening as well, at an à la carte price.  For a whimsical take on New York City's burger craze, try the Valrhona Chocolate-pistachio Hospoda dessert version dressed with white chocolate-lime mayo, mango French Fries, and salty caramel.
321 East 73rd Street, Upper East Side, 212.861.1038, www.hospodanyc.com
Le Perigord – If soufflés are your thing, you won't want to miss Le Perigord's special Valentine's Day raspberry miracle.  This traditional Midtown French, a "natural" for a future Mad Men episode, has been serving soufflés and drawing loyal diners for nearly 50 years.  Here you'll celebrate Valentine's Day sans trendiness.  The $65 three-course prix fixe menu includes passion-inducing lobster bisque or foie gras with seasonal fruits to start; filet de loup de mer, Dover sole, or rack of lamb (some supplements apply); a selection from the pastry trolley, plus the inimitable "red" soufflé. Jackets are required.  Bookings from 5:30-10pm.
405 East 52nd Street, Midtown East, 212.755.6244, www.leperigord.com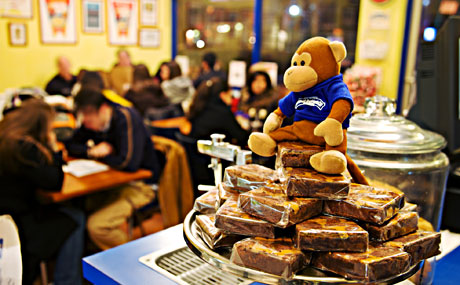 Peanut Butter & Co. – I had to include this one because it's just so downright kooky.  The cute West Village sandwich shop is offering a special $35 prix fixe menu of everything peanut butter starting with heart-shaped peanut butter sandwiches accompanied with a glass of milk, and ending with a dessert of a peanut butter bliss sundae.  Sound a little incomplete for a meal?  They're also adding a gift of candy Conversation Hearts and a jar home of peanut butter to take home for late-night snacking.
240 Sullivan Street, Greenwich Village, 212.677.3995, http://ilovepeanutbutter.com/sandwichshop.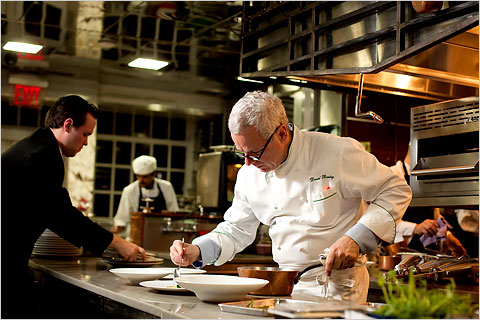 David Bouley's Test Kitchen – Not for those without open pocketbooks, here's a chance to cook with acclaimed Chef David Bouley on Valentine's Day.  For $275 per person, you can join Chef Bouley in his elegant downtown test kitchen at 3pm to learn to prepare a romantic and healthful dinner, with dishes and ingredients selected by the master himself.  You'll also transform into a mixologist with tips on preparing a special Valentine's Day cocktail. The afternoon ends with a take-home shopping bag filled with the ingredients and recipes of the day, for you to recreate the experience on your own. Not interested in cooking and cleaning up? For $325 per person, you can leave almost everything to the pros and enjoy the full Bouley Test Kitchen experience, with an interactive six-course cooking class that's true to chef's locavore and health-oriented philosophy, to be enjoyed to the musical accompaniment of a jazz pianist throughout the evening. Instead of a shopping bag, you'll take home some artisanal chocolates for your late-night treat. A wine pairing is available for an additional $125 per person.
TriBeCa, Reservations, 212.964.2525, http://www.davidbouley.com/.
The Modern – Chef Gabriel Kreuther' s noteworthy Alsatian cuisine stands on its own in the sleek, über-romantic setting overlooking the Museum of Modern Art's sculpture garden. A $250 seven-course tasting menu, including a caviar cart, will be offered through the extended Valentine's Day weekend, on Thursday, Friday and Saturday nights.  Expect aphrodisiacal ingredients like lobster and oysters as well non-seafood selections, all beautifully plated, with molecular gastronomy touches.  You'll leave with a gorgeous gift as well:  Pastry Chef Marc Ayumont's chocolate heart sculpture that might just be too beautiful to eat.
9 West 53rd Street, Midtown West, 212.333.1220, www.themodernnyc.com.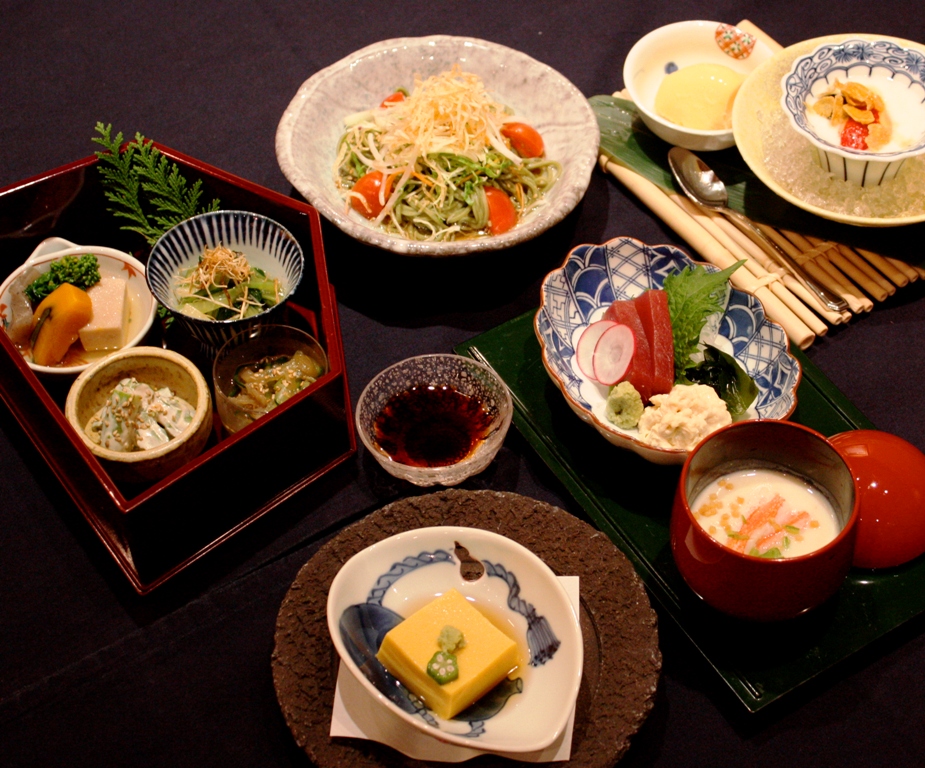 Hakubai – A special Japanese dining experience awaits at the Kitano, New York's only Japanese-owned boutique hotel.  Priced at $160 per couple, the Michelin-rated Hakubai induces serenity and satisfaction with a set kaiseki (multi-course) sake-paired menu. Three sakes -- including one sold only in Japan -- will be served along with six appetizers, five small-plate courses, two main courses, and dessert.   If you can't make it on February 14, or choose to have a two-night celebration, the special dinner is offered on February 15 as well.  Reservations are limited to 26 diners each evening, served from 6:30-9pm.  You can continue the evening at Jazz at Kitano, with fanciful cocktails such as the Manhattan Love Story (whiskey, sake and ginger liqueur) or Love Letter (Campari, Cointreau and agave nectar), and a jazz performance at 10pm.
66 Park Avenue (at 38th Street), Midtown East, 212.885.7000, http://www.kitano.com/Dining/Hakubai
Swine – Are you a bacon lover?  If so, you won't want to miss this Greenwich Village pub's $75 prix fixe "Tainted Love" menu.  Everything on the menu is "tainted" with bacon or music, as in bacon love.  You'll enjoy a "You Don't Bring Me Raspberries' cocktail aperitif, two savory course (crispy bacon crusted oysters or lobster bacon hash; or applewood-smoked bacon or bacon-wrapped rabbit saddle, for example), and a sweet course of bacon and banana bread, bacon ice cream, or bacon crème brûlée.  In keeping with the restaurant's mantra, there will be a rockin' music vibe all night. The seriously fun menu here is overseen by Chef Phil Conlon, formerly of Café Cluny.
531 Hudson Street, West Village, 212.255.7675, http://swinenyc.com/.
Restaurant Marc Forgione – Michelin-Star recipient and winner of Food Network's "Next Iron Chef," Chef Marc Forgione, has created an Aphrodisiac Tasting Menu at his eponymous, sexy TriBeCa restaurant.  Pretty much every aphrodisiacal ingredient that you can think of has found its way onto this lush menu, which includes widely recognized aphrodisiacs such as caviar, oysters, truffles, foie gras, lobster and  chocolate as well as the lesser-known pomegranate, egg, tuna, hazelnut and marshmallow temptresses.  Can you imagine what might happen after you finish the entire menu?  Examples of these ingredient mashups are hamachi with Kaffir lime and caviar, tuna in a passion fruit cloud with black truffle and parsnip, and Spanish mullet set in a sea scallop emulsion with uni and Olde Salt oysters.  You'll have to visit to see the rest.
134 Reade Street, TriBeCa, 212.941.9401, www.marcforgione.com
Among fancier Italian choices, two new restaurants on the Upper East Side and one in Midtown East offer these prix fixe feasts for San Valentino:
Sirio – Sirio Maccioni's (Le Cirque) newest showpiece, Sirio, in the Pierre Hotel, invites you to enjoy dinner for $135, with a wine pairing available for $39 per person.  You'll start off the evening on a romantic note with a rose for your sweetheart, a choice of 16 cocktails to further set the tone, an oyster and caviar amuse bouche, choice of six appetizers and six main courses, petits fours, and a box of chocolates to take home for a late-night treat.
795 Fifth Avenue, Upper East Side, 212.940.8195, www.sirionyc.com
Salumeria Rosi Il Ristorante – The more formal version of the West Side's Salumeria Rosi, Chef Cesare Casella's new restaurant on Madison Avenue has created a five-course dinner for $95, with wine pairings for $55 per person.  Expect the Parma cotto, salumi, and formaggi for which the restaurants are known along with hearty Italian comfort food in this sleek and elegant setting.
903 Madison Avenue, Upper East Side, 212.517.7700, www.salumeriarosi.com
Armani/Ristorante 5th Avenue – Timed right with New York Fashion Week, the restaurant at the Armani flagship store on Fifth Avenue is offering a four-course prix fixe menu.  Red is on everyone's mind this season, especially here, with roasted Maine lobster and prime "red" Angus tenderloin. Think pink with their pomegranate semifreddo, or go for an Armani signature with a plate of Armani/Dolci pralines to finish the meal.  $150 per person.
717 Fifth Avenue, Midtown East, 212.207.1902, www.armani.com
Oceana – Seafood lovers have a special treat to look forward to on Valentine's Day with Oceana's terrific menu and music.  Not prix fixe, the menu allows you to create your dream dinner front-loaded with aphrodisiacal oysters if you'd like in the form of Executive Chef  Ben Pollinger's oyster pan roast with black truffles, followed by turbot a la plancha, and a warm dark chocolate and raspberry caramel tart, tinted red with raspberry sorbet, rose sorbet, and Chambord bubbles.  Valentine's potions like the Cupid's Arrow continue the color of love theme with Stoli vanilla and honey, cherry-infused brandy, champagne and strawberries.  The appropriately named Valentine Quartet will play jazz throughout the evening.
120 West 49th Street, Midtown West, 212.759.5941, www.oceanarestaurant.com.
KTCHN Restaurant – Further West, and perfect for those going to theater that evening, KTCHN will  keep you entertained with live jazz, a romantic dinner and wine pairing, and a parting pastry gift from Pasty Chef Josue Ramos (Jean Georges, Le Bernardin).  Executive Chef Dale Schnell (Artisanal, Picholine) throws in a variety of romantic twists starting with smoked salmon blini topped with caviar and finishing with a warm chocolate fondue for two. The latter also comes with an amazing array of amour-inducing treats: strawberries, raspberry marshmallows, clementines, NYC soft pretzels, graham crackers, and macaroons. Wow!  I think I'd just head straight to dessert.  The four-course prix fixe menu is priced at $95 per couple.
508 West 42nd Street, Theater District/Hell's Kitchen, 212.868.2999, www.kitchnny.com.