If you are looking for a good scare this Halloween then what better way to do it at one of the many haunted houses in New York City. We know that there is a lot to choose from, and though most of them are good, there are a few that aren't. So, ranging from amusing to absolutely terrifying, here are the four most popular haunted houses in the city—and everything you need to know about them.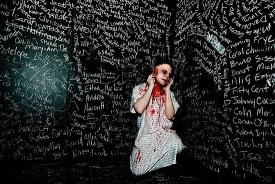 First on our list is Blood Manor, arguably the most popular haunted house in the city. It is a grand production that incorporates everything from day glo paint to elaborate costumes. This year the house boasts a variety of new thrills including the "Graveyard of the Doomed," the "Cabaret of Death," the "Wall Crawler" and a spectacular "Zombie Apocalypse," which includes a 3D experience that has everyone talking. Tickets are $25 if you buy them online and $35 at the door, though if you want to skip the line it is going to cost you an extra 20 bucks.
Next on our list is not so much a haunted house as a haunted experience. Nightmare Fairy Tales is a newer attraction that seems to be pleasing most people that go through. The experience is said to be a little more theatrical than horrifying and takes you and a group of 8 to 12 people through a haunted forest where you see "awful things happen to your favorite fairy tale characters." They do ask you to fill out a card which asks what you are most scared of, and though it is only played out for one person in your group, it does add an interesting element that many other haunted houses do not. The tickets can get a bit pricey if you want the full package ($100) but for the average attendee they are just about what every other haunted house is ($30).
Probably the least scary on our list, but the best one to take the kids to, is Madame Tussauds After Dark. Following a similar concept to The House of Wax, this haunted house takes you through multiple stories of dark rooms filled with spooky wax statues. Dubbed the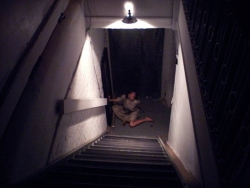 "darkest haunted house in New York City" this haunted house surely does have its thrills and if you are visiting, then you will not have to make extra travel arrangements as it is located in Times Square. Available for only eight nights, this will definitely be a popular destination, and with only a $22 price tag (online), it is hard to go wrong.
Last, but certainly not least, is perhaps the scariest haunted house that New York City has ever seen. Black Out NYC is by far what everyone is talking about this Halloween season, and for good reason too. Though many people have trouble actually describing the experience that you have, it is best described as being "as close to mental torture that you can get." A little more restricting than all the other options, you must be at least 18 to enter and you have to sign a waiver saying that the actors can touch you, oh and did we mention? You go through the entire thing by yourself. Unfortunately, pre-sale tickets are sold out from now until November 5th, however, there is a waiting list at the door so if someone chickens out, you are the next in line.
So there you go, your guide to the most popular haunted houses in New York City. So stop watching American Horror Story and get down to one of these actual haunted houses, there is something for everyone so there's really no excuse to not experience a good scare.