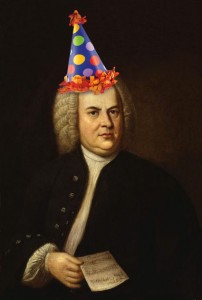 Celebrate the birthday of one of the world's great composers with a program of free concerts happening all over the city. Bach in the Subways happens internationally on March 21, with a program of 13 concerts throughout New York City.  This wonderful gift to straphangers was created by cellist Dale Henderson in 2011 in celebration of German composer Johann Sebastian Bach's birthday and is presented free in subways and public spaces around the world.
Tips are not expected, as this is a gift from the creator to encourage more people to access classical music.  Henderson notes that the subway is a perfect place to reach all types of people and has applauded the MTA's receptiveness to his program.
Dale, himself, will be playing at Columbus Circle (59th Street subway station) from midnight (when the program kicks off) until 1am and at Washington Place and 6th Avenue from 8pm-9pm.
Other New York City performances include:
Brian L. Thompson (viola) – 8:30am-11:30am, Park Place and Flatbush Avenue, Brooklyn
Jude Ziliak (Baroque violin) – 9am-10am, West 181st Street at Fort Washington; 4:30pm-5:30pm, West 59th Street at Broadway
Kay Lugh/Goldberg Variations (piano) – 10am-3pm, 5 Metro Tech Center, Bern Dibner Library, Ground floor lobby
Emily Trask (cello) – 10:30am-11:30am, 125th Street Subway, A/B/C/D
Lorenzo Sandi (double bass) – 10:30am-11:30am, Times Square
Robert Duncan and Mayumi Miyaoka (accordion duet) – 11am-5pm, Fulton Street
David de la Nuez (oboe) – 3-4pm, West 175th Street and Fort Washington Avenue
Sylvain Leroux (flute, chromatic tambin) – 11am-1:30pm, First Avenue and 14th Street
"Young Musicians' Open Mic" (violin, cello) – 1pm-4pm, Grand Central Terminal
John Mark Rozendaal (violoncello) – 5:30pm-6:30pm, Dyckman and Broadway
For more information, visit http://bachinthesubways.com