It's less than a month to the return of the final season of Mad Men. New York City is celebrating with a "Mad Man" Dining Week (March 23-29) that makes some sense, I guess, because of its pricing, if not the selection of participating restaurants.  However, it's really the bars that feature more prominently in the show and have been the site of significant rendez-vous over Mad Men's run. http://www.nycgo.com/mad-men-dining-week
I now present a tour of some of the best places to go drinking like a Mad Man (or woman).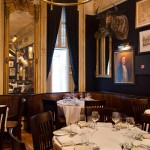 Bill's Food & Drink: It's not exactly the original Bill's Gay Nineties, but it's pretty close.  Set in a 19th-century townhouse, Bill's was once the site of a Prohibition Era speakeasy.  Listen to the pianist in the downstairs bar while you knock back a Scotch, just steps away from many of the original Madison Avenue ad agencies.  You can finish the evening upstairs with a Delmonico steak for two and an aptly named Hanky Panky gin cocktail, a clubby setting for consummating a business deal (or other kind of tryst).  www.bills54.com.  57 East 54th Street, 212-538-2727.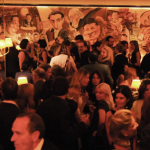 Monkey Bar: Across the street, the landmark Hotel Elysée (once known as the "easy lay") has welcomed guests like Joe DiMaggio and Marlon Brandon.  Step inside the great piano bar just off the lobby with its iconic monkey mural.  You can just picture Roger downing a Manhattan or two before heading for a room upstairs.  Hotel Elysée, www.monkeybarnewyork.com, 60 East 54th Street, 212-753-1066.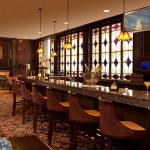 Madison Club Lounge: The historic lounge in the Roosevelt Hotel is classic Mad Men with its mahogany walls, stained glass windows, and leather bar seats.  It's likely Don began and ended his day here during the time he lived at the hotel, pouring vodka into his orange juice.  45 East 45th Street, 212-661-9600.  www.theroosevelthotel.com.
Bemelman's Bar: Some things never go out of style.  Live piano music, enchanting murals of animals by Ludwig Bemelmans of Madeline fame, plus formally dressed waiters make this an Upper East Side landmark.  The perfectly chilled and poured martini comes in a shaker with enough liquor for a potent drink and a half, and the banquettes are perfect for cuddling.  The Carlyle Hotel, http://www.rosewoodhotels.com/en/the-carlyle-new-york/dining/bemelmans-bar , 35 East 76th Street, 212-744-1600.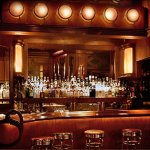 Temple Bar: The glamorous oak bar in NoHo is known for its extensive drink list peppered with all the classics.  Imagine yourself sitting with Don among the beautiful velvet curtains, sipping an Old Fashioned, or with Joan indulging in a creamy Brandy Alexander. http://www.templebarnyc.com/ 322 Lafayette Street, 212-925-4242.