I adopted the role of guinea pig and took a tour with NYCVP to find out.
What's great about New York City is that it's ever-changing; people of different cultures come and go, trends cycle through at a rapid pace, and there is always something new to experience. This virtue can also be a vice, however, as it's easy to get wrapped up in the moment and forget about the past that has built the present.
It's a bit of a cliché for tourists to go out to the Statue of Liberty and typically a no-no for native New Yorkers. However, this pilgrimage of sorts is part of every out-of-stater's itinerary for a reason. This large copper structure is much more than the tourist attraction it has been reduced to; it's a symbol of friendship between two countries (the U.S. and France) and a personification of what this country stands for. Let's not forget the many tired immigrants Lady Liberty has greeted as they concluded their journey of the sea to begin a new one in America. (It's also one of the best spots for getting a good view of the beautiful Manhattan skyline!)
It's easy to become frustrated with the 9/11 memorial construction site over in the Financial District --the never ending project causes congestion and is not very pretty to look at-- but what about the firefighters who died trying to rescue their fellow citizens in the 2001 World Trade Center tragedy? Sure, it's been over 9 years since the planes hit the towers, but remembering and honoring the victims should never go out of style.
Whether you're a first-time New York City tourist or if you're already familiar with the city, these places are worth getting to know. Not exactly a stranger to the area myself, I recently went on the Ground Zero/Statue of Liberty Tour with NYCVP (http://www.nyctrip.com/Pages/Details.aspx?TourID=261) for a fun and somewhat educational way to pass my Saturday morning. The words "guided tour" normally stress me out as I envision overly air-conditioned coach buses and non-stop monotone talking over bad sound systems, but this particular tour is a walking and subway tour and feels a lot more real than "tourist-y". It's kind of like you're out with friends, only one of them happens to know everything about where you're going, the history behind what you're looking at, and how to cut lines and snag the best spots without getting in trouble.
Our group included different kinds of people from all across the country and every single one of them (including the 9-year old girl with a short attention span) appeared to have a good time. The guide was friendly and very knowledgeable in the appointed topic and beyond. Overall, the tour was very efficient and there was no wasting time dilly-dallying around but it also wasn't rushed. It officially ended at the arrival of the Statue of Liberty, leaving each of us to spend as little or as much time there as we wanted and with the option to subsequently visit Ellis Island at no extra cost.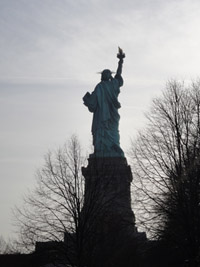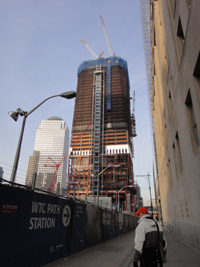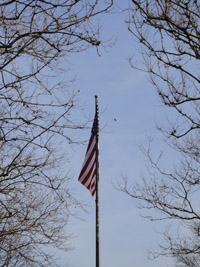 NYCVP's Ground Zero/Statue of Liberty Tours start at 8am in Midtown at the 53rd Street Gourmet Deli (53rd Street between 6th & 7th Ave) and run for about 5.5 hours. The price for this particular activity is $59 for adults and $45 for kids, and includes a pre-paid metro card with two subway rides. Visit http://www.nyctrip.com/Pages/Details.aspx?TourID=261 for details and to reserve tickets.