Celebrate fall with these five stunning food (and benefit) events in Manhattan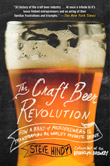 Brooklyn Brewery and the Craft Beer Revolution
Monday, September 21, 7pm
Brooklyn Brewery's Steve Hindy (author of Beer School) and Garrett Oliver (author of The Brewmaster's Table) share the story of how their revolutionary company grew from a home-brew hobby into a multimillion-dollar business—in the most competitive beer market in the US.  Tasting included.
92nd St. Y, 1395 Lexington Ave. (at 92nd St.), Manhattan
$32
www.92Y.org/Event/Brooklyn-Brewery-and-the-Craft-Beer-Revolution

A Second Helping of Life
Monday, September 21, 7pm-9:30pm
Join New York City's premier women chefs to support SHARE and raise funds to help thousands affected by breast and ovarian cancer. Headlining chefs include April Bloomfield of The Spotted Pig and The Breslin. For more information email lcooper@sharecancersupport.org.
Chelsea Piers, Pier 60 (at West 22nd St.), Manhattan
Tasting Event tickets start at $325
www.ShareBenefit.org/view_about.php?journal_id=631
Sweden Day at NORTH 2015
Thursday, September 24, noon-10pm
On Sweden Day, celebrate the country that gave us ABBA, IKEA and Spotify with a free event at the Scandic Haymarket Square at NORTH 2015. Food and drink from Stockholm provided for all.
The Scandic Haymarket Square, 139 Charles St. (Washington-Greenwich Sts.), Manhattan
Free
www.NordicFoodFestival.org/sessions/sweden-day-north-2015
D'Artagnan Cassoulet War
Thursday, September 24, 7pm – 10pm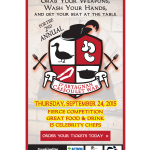 On September 24, fifteen chefs battle for cassoulet supremacy at The Standard Biergarten. Enjoy the festivities and the cassoulet experience while voting for your favorite cassoulet. Proceeds benefit Action Against Hunger. A panel of judges including Chef Sara Moulton (Food Network's "Sara's Secrets), Chef Andre Daguin (Hotel de France), Chef Jean-Pierre Xiradakis (La Tupina), Francis Staub (Founder of Staub Cookware), and Jean-Michel Cazes (French winemaker) will choose the Most Authentic and Most Daring cassoulet champion.The Standard, 848 Washington St. (at Little West 12th St.), Manhattan
$75
www.Eventbrite.com/e/2nd-annual-dartagnan-cassoulet-war-tickets-17832740206
Pop Up New York's Chelsea Eats
Saturday, September 26
Chelsea Eats will bring a culinary journey to 8th Avenue from 14th – 23rd street with the focus of giving a makeover to the classic street experience. The Chelsea Eats strip will bring together the best of New York's artisanal food, handcrafted goods, stunning visual artists and live entertainment. As part of the event, dancers from the Joyce Theater will put on live performances from tap, jazz, salsa and ballet genres.
Participating vendors include Red Hook Lobster Pound; Melt Bakery; Alchemy Creamery; Mighty Quinn's BBQ; Brooklyn Oyster Party; Duck Season; WtrMLN Water; Detox Water), visual artist (UTA Brauser) and merchants (Papercrane Heart, The Green Pallette Brooklyn Bar Body and Bath). Local restaurants located on the Chelsea Eats strip Pound & Ounces, Bareburger and Forringers host beer and wine gardens outside of their venues.
http://www.popupnewyorkevents.com