Spring has finally arrived with sunny days, budding trees, and rising temperatures. It's the time of year when people go outside not only because they have to get somewhere, but because they actually enjoy being out and about. The warmer weather brings great opportunities for taking a friend or a loved one out for a fun day in the city.
Here are some suggestions on places to explore in Manhattan:
It's a Walk in the Park
Manhattan is full of green areas, and what better way to celebrate spring-time than to spend time in nature? Central Park is of course the largest, and by far the most famous, park in New York City. It's easy to spend an entire day here visiting the zoo, stopping by The Tavern on the Green Food Truck Terrace for lunch, watching children play with toy sailboats in the Conservatory Pond, and more.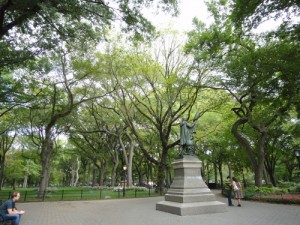 For a more urban feel, take a walk in the Flat Iron District and stop by Madison Square Park and Union Square.  Madison Square Park is home to Shake Shack (a food-stand offering burgers, hot dogs, beer and wine, etc.), a number of monuments, and an award-winning playground that is open year-round. For art and music events check out their calendar of events. Or pay tribute to Mother Earth by browsing the Union Square Greenmarket, open every day between 8 a.m. - 6 p.m.
A View from the Top
Take in the full view of the City by riding up to the top of the Empire State Building. Open from 8 a.m. to 2 a.m. Monday - Friday and 8 a.m. to 12 a.m. on Sundays, you can start your day off with an impeccable sight or catch the sun as it sets over Manhattan. Because this is a very popular tourist spot, the ticket line tends to get extremely long. If you are not one who takes to wasting time in line, you can order your Empire State Building ticket in advance with NYCVP (http://www.nyctrip.com/Pages/Details.aspx?TourID=101). An admission ticket from NYCVP grants you permission to cut the line for the ticket booth, and advance to the elevator before everyone else. The first elevator goes up 80 stories, then you can choose to walk up 6 flights of stairs, or stand in line for the second elevator. However you choose to climb to the 86th floor Observatory, it will be worth it. The 360 degree view of New York City is breathtaking. Make sure you bring your camera for some gorgeous shots of the island!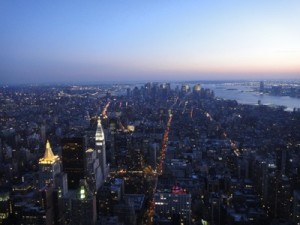 Ticket prices with NYCVP:
Adults: $21
Children: $15
(Tickets for the Empire State Building are free with any of their vacation packages!)
In with the New Out with the Old
Have you been spring-cleaning your closet? Then it might be time to re-vamp your wardrobe. What better way than to go shopping in SoHo? Deemed one of the most unique shopping areas in the world, SoHo is a wild mix of designer goods, art, antiques and more mainstream chains. There are always thousands of people milling about, and with good reason. There is something for everyone; you'll find the first Madewell flagship store (opened in 2008) tucked inside a "Romanesque Revival" landmark building, up the street you can shop at either Old Navy or Bloomingdale's (whichever your budget allows), or indulge in some artwork instead at one of the many art galleries in the area.
Nurture Your Sweet Tooth
Nothing says "spring" like a colorful baked treat. Stop by Greenwich Village for cupcakes at one of the numerous bakeries. There are baked goods to satisfy omnivores and vegans alike in this neighborhood. A personal favorite is Babycakes, who not only offers many vegan-friendly treats, but also accommodates those with gluten allergies. Have your pick of freshly baked carrot cake, chocolate, or vanilla cupcakes, or take home a brownie or two. (View their full menu here). If you'd rather have your desserts laced with the taste of butter, then Butter Lane Cupcakes is your place to be. They have a range of interesting flavor combinations, such as salted caramel, honey cinnamon, and grapefruit ginger.