Explore:
Escape to Paradise: The impressive and ornate Paradise Theater is one of the best-kept secrets of the Bronx. Built in 1929, the once-bustling Lowes Paradise movie theater underwent many remodels and repairs after being closed for almost 10 years from 1994-2005. Now reopened, it boasts some of the original artwork and architecture as well as an up-to-date auditorium, stage and seating. Made to resemble 16th-century Italy, frescoes inspired by the Sistine Chapel painting adorn the ceiling and a luxurious marble staircase winds up from the main auditorium. There are a variety of kids' shows (Barney Live in Concert), concerts (Heart & Soul Big Classic soul jam) and conferences offered.
2413 Grand Concourse, Bronx, NY 10468; 718-220-1015; www.paradisetheater.net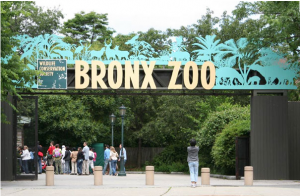 Get Wild: The Bronx Zoo has something for everyone. Whether you prefer to feed the farm animals at the petting zoo or you enjoy watching the reptiles devour their lunch from afar, you're sure to be entertained. There's always something new to learn or see at Jungle World, an Asian-themed warm-climate space where otters, gibbons and 800 other animals roam; Tiger Mountain and the Congo Gorilla Forest. There's the Bug Carousel, the Zoo Shuttle and the Wild Asia Monorail to get you moving. Bronx Zoo
General Admission tickets are $12 for children under 12 and $16 for adults.  The park is open daily from 10am-5pm (until 5:30 on weekends).
2300 Southern Boulevard, Bronx, New York 10460; 718-220-5100; www.bronxzoo.com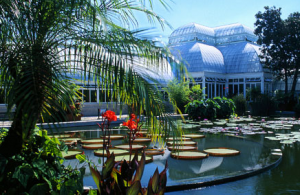 Stop and Smell the Chrysanthemums: No trip to the Bronx is complete without a visit to one of our country's historic landmarks, The New York Botanical Gardens. In celebration of its 120th anniversary, there are numerous exhibits and programs in the more than 50 landscapes and gardens within the 250-acre space. Containing more than one million plants, the diverse collection draws large crowds especially for the annual The Orchid Show, Kiku: The Art of the Japanese Chrysanthemum, and the Holiday Train Show. Children and adults alike can learn the importance of plant life and how to keep your plants healthy and growing. My favorite time of the year: May and June when the daffodils and roses bloom. Simply gorgeous.
Open Tuesday through Sunday from 10 am–6 pm. Check the website for General Admission ticket pricing.
Bronx River Parkway at Fordham Road, Bronx, NY 10458; 718-817-8700; www.nybg.org