New York City Department of Transportation Presents Summer Streets NYC 2010.
From 7am -1pm on the first three consecutive Saturdays in August (7, 14, 21) Manhattan will temporarily close the streets connecting East 72nd Street to the Brooklyn Bridge, from Park Avenue heading down Lafayette Street, to cars, and instead inviting cyclists, walkers and rollerbladers to spend an enjoyable traffic-free morning along the city's streets.  Now in its third year, Summer Streets is part of NYC's green initiative, one of the city's initiatives to promote outdoor recreation and eco-friendly transportation.


Along the Summer Streets route, you'll enjoy four rest stops at Uptown, Midtown, SoHo, and Foley Square points, where you can take free fitness classes, create some arts and crafts magic, catch a water break, listen to a musical performance, and more , including productions designed for adults and some just for kids from the inventive folks at FringeNYC.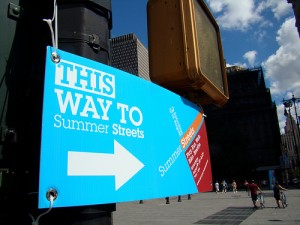 This year's most anticipated addition -- swimming --  lets you cool off in a way you'd never have imagined, in actual city dumpsters.  MacroSea, the company that introduced last year's dumpster swimming pools to Brooklyn is bringing their slightly off-center concept to Manhattan's Summer Streets, again creating swimming pools out of dumpsters (clean and unused shipping containers, so no worries).  Located near the Grand Central viaduct, the pools, with decks and supervising lifeguards, are open to all free of charge.  Bracelets will be distributed with time-specific slots on a first-come, first-served basis.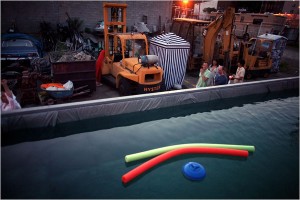 New this year as well, you can join Joy Ride, a group bike ride set to music.  The creation of theater artist Liz Sherman with music by Grammy nominee Duncan Bridgeman, Joy Ride meanders through the city on the three Saturdays of Summer Streets starting at 11am from Foley Square.  The endpoint is Central Park at Cedar Hill where all riders will enjoy a picnic.  You'll need to have a bike and a set of speakers or earbuds (you wear only one, per NYC law) to enjoy the ride.  To register for this special event, sign up at www.joyrideo.com.  The number of riders is limited to 50 on each date.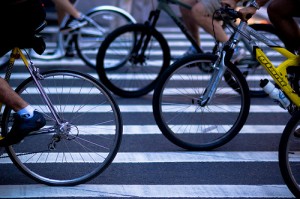 Don't have a bike or a helmet?  Free bike and rollerblade rentals, as well as free bicycle helmet fittings, are available at specific rest stops.  But you'll need to remember your bathing suit and towels, as these are not provided.
All Summer Streets events are easily accessible by subway, N-Q-R-J-Z to Canal Street or the 4-5-6 to anywhere on the event's route, by Metro North to Grand Central, by LIRR to Penn Station, or by bike.  Just leave the cars behind, please.