One of my favorite parts of living in New York City is the list of amazing free events offered each summer in New York City.  If events like Broadway in Bryant Park happening from 12:30pm-1:30pm for the next couple of Thursdays have you tapping for more, here's a list of some other big-production, musical freebies that you can enjoy. 


"Good Morning America" Summer Series:  Start off a beautiful summer morning in Central Park while watching your favorite musicians perform.  "Good Morning America" has been able to get some of today's biggest names in the music industry. Concerts run from 7 AM – 9 AM, and viewers are encouraged to arrive by 6 AM. Play "Russian roulette" with Rihanna or feel yourself "burnin' up" with the Jonas Brothers!
August 6:  John Legend and the Roots
August 13:  Jonas Brothers and Demi Lovato
August 20:  Rihanna
August 27:  Lady Antebellum
Summerstage Rumsey Playfield via the 72nd Street entrance on Fifth Avenue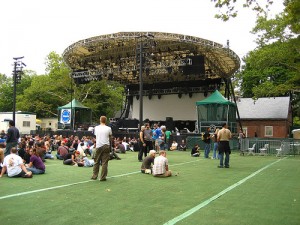 Toyota Concert Series: The "Today Show" is sponsoring an amazing lineup of free summer concerts in partnership with Toyota.  Rockefeller Center is the place to be on Friday mornings at 7 AM for these great concerts. Viewers are encouraged to arrive no later than 6 AM in order to have a view of the stage. Everyone may have already gone "gaga" for Lady Gaga last month, but the rest of the lineup is equally as impressive with performers such as Ke$ha and Katy Perry.
August 6:  Train
August 13:  Ke$ha
August 20:  Daughtry
August 27:  Katy Perry
The Plaza at Rockefeller Center (between 49th and 50th St. near 5th Avenue)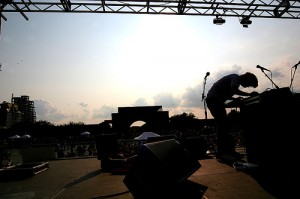 Seaside Summer Concert Series: Concert-goers won't be able to stay in their seats once they hear tunes such as "Love Shack" by The B-52s or anything by the Queen of Soul, Aretha Franklin, at this series. Coney Island will be hopping starting each Thursday night at 7:30PM.
August 5:  John Legend
August 12:  Aretha Franklin
August 19:  The B-52s with a special appearance by Belinda Carlisle
August 26:  Annual Latino Music by the Sea (TBA)
Asser Levy Park, Ocean Parkway and Seabreeze Ave. in Brighton Beach, across the street from the New York Aquarium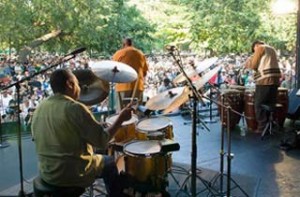 Charlie Parker Jazz Festival:  Celebrate the bebop sax legend at this two-day festival.  Both days of the festival will take place in the neighborhoods where Charlie Parker lived and worked. On Saturday August 18, the festival will be held in Marcus Garvey Park from 3PM-7PM and will include performances by McCoy Tyner, Jason Moran and the Bandwagon, The JD Allen Trio, and Revive Da Live's premier "Charlie Parker Revisited." On Sunday, August 29, the festival takes place in Tompkins Square Park from 3PM-7PM with scheduled performances by James Moody, Jimmy Scott, Vijay Iyer, and Catherine Russell.
Marcus Garvey Park, Tompkins Square Park