In Part I of this post, I covered two great new restaurants. The first was Crown, serving top-rate French cuisine, and the second was Geisha Table, serving Japanese cuisine in an intimate setting with a focus on superlative sushi. Now in Part II, I am going to talk about the third of my three favorite new restaurants, Catch.
Catch -- You might have to look around a bit to find this hotter-than-hot Meatpacking District restaurant. On a side street of Hudson with a velvet rope and protective doorman guarding the entrance, Catch seems like another of the many clubs here. But on the second floor, the bar scene morphs into a large, very busy restaurant space, serving seafood of all sorts. Opt for the equally large room on the third floor for a bit more serenity.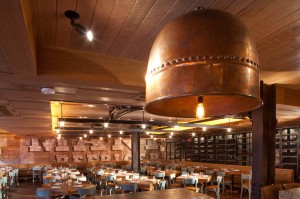 Surprisingly, this bar-club restaurant hybrid serves up some really good food. Overseen by charming-but-tough Iron Food Chef Hung Huynh a meal here can be as mix-and-match as you'd like. You can start with super-fresh Kumamoto oysters and an assortment of the restaurant's creative sushi rolls, followed by Dungeness crab spaghetti (a bit messy, but well worth it). Keep your bib on, because you won't want to miss the Cantonese lobster, another sticky presentation. Then toss in a side of Brussels sprouts (so in vogue today) and finish with the restaurant's signature cookie bucket, a mélange of chocolate chip cookies, brownies, fried Oreos and other treats.
That's a terrific (and creatively diverse) meal, in a setting where you just might see someone you think you recognize (perhaps a friend, or a distant friend that you recognizes from TV or film). Catch is that sort of place, a scene where you go to be seen as much as to dine or drink. It's loud, fun, and you'll have a good meal, too. If you're up for it, go to the top floor for a nightcap at the club. 21 9th Avenue, Manhattan, (212) 392-5978, www.catchnewyorkcity.com