On April 22, 1970, nearly 20 million Americans attended the first Earth Day celebration, an event designed to raise awareness of important environmental issues such as pollution, waste, ozone depletion, and wildlife extinction. Earth Day is even more relevant today, focusing on issues such as the increasing amount of garbage in landfills and the rising levels of carbon in the atmosphere, with a goal of helping preserve the health of the Earth.  New York City venues have planned fun-filled events to observe the holiday.
Through April 23rd, the annual New York City EarthFair, organized by the nonprofit organization Earth Day New York, will be held inside the Grand Central Terminal in Vanderbilt Hall and outside of Grand Central Terminal.  Art and interactive exhibits will be featured each day.  There will also be educational panels about nutrition and other "green" issues.  Vanderbilt Hall, 82 East 42nd Street
Battery Park City will be hosting free and inexpensive events such as bird watching, film screenings, and workshops and panels on various topics like climate change and green architecture.  75 Battery Place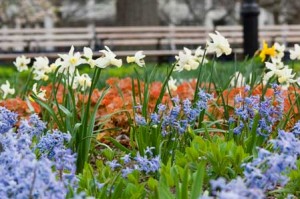 Time Square will be hosting a public celebration on April 22, from 11am-5pm,  featuring entertainment, speakers, and an interactive exhibit highlighting green businesses, non-profits, and sponsors. There will also be a CO2 E drive runway show with all kinds of "green" vehicles.
Million Trees NYC Spring Planting Day
On April 30 more than a thousand community volunteers and the NYC Parks Department will be planting 20,000 trees in a single day at 16 park sites across the five boroughs of the city.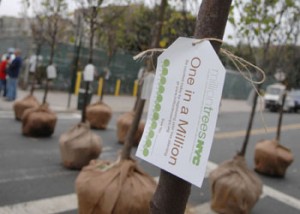 Tompkins Square Park
On April 22nd, the Rock against Poverty Earth Day Concert will feature performances by artists such as Trey Lorenz, American Idol finalist Anwvr, Dale Stephens, Dirty Rotten Liars, Ultralust, and more.  Admissions is a donation of $25-$100 to benefit Rock against Poverty, a collaboration between artists and developers working to alleviate poverty and mitigate climate change through sustainable solutions.
On April 22nd, Le Poisson Rouge, the multi-media art cabaret in the West Village, will be hosting The Earth Day After Party.  Attendees will get a sneak preview of the "…IN THE WOODS Experience" which features Terrence Howard, Dave Matthews, Temple Grandin, Rufus Wainwright, Will Shortz, Liya Kebede, Moby, Rosie Perez, and more. http://lepoissonrouge.com/events/view/2185, 158 Bleecker Street, (212) 228-4854