We've had the Pope, the GA, Coldplay and Beyonce and their fans in Central Park. Road closures, subway shutdowns, and incessant helicopters.  Sometimes you just want some peace and quiet. Here's where you can go to find some serenity in the city.

Arthur Ross Pinetum in Central Park
Immerse yourself in nature at the Arthur Ross Pinetum in Central Park. Located between 84th and 86th streets, this area of Central Park has 400 pine trees of 15 various species worldwide. Clear your mind at the Contemplation Circle and do some bird watching while gazing at the buds on the trees. Long-eared and northern saw-whet owls are known to sleep in the surrounding pines during the day, making the Pinetum a prime location for bird watchers.
(212) 310-6600, centralparknyc.org
Jacques-Marchais Museum of Tibetan Art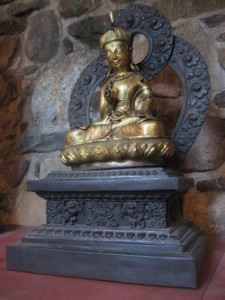 To truly take a step away from New York City, hop on the Staten Island Ferry for free and get a breath of fresh air as you sail away to the serenity of the Jacques-Marchais Museum of Tibetan Art. Admire the largest collection of Tibetan art in the West, located inside of the only Himalayan-temple-style building in the United States. Afterwards, take some time to wander around the beautiful meditation gardens outside. If you fall in love with the Tibetan culture by the end of your visit, then make sure to venture back to the museum in October for the annual Tibetan festival.  If you're lucky, you'll get to hear the monks ring the bells to break your silent reverie.
The museum is open Thursday through Sunday from 1pm-5pm.
Admission:
Adults- $6
Seniors/Students- $4
(718) 987-3500,  338 Lighthouse Ave., Staten Island,   http://www.tibetanmuseum.org/index.htm
YeloSpa
For the ultimate power nap, visit YeloSpain Manhattan and try out a YeloCabTM. After a nap in one of these cocoon-like cabins, you will feel rejuvenated and ready to get back to work in no time. Choose from a traditional massage while napping or a reclining YeloChair TM to sleep in for a weightless feeling. Customize the lighting and music in the YeloCab to your liking, and fill the cabin with your favorite aromatherapy scent. Snuggle up with a soft cashmere blanket and sleep that stress away at YeloSpa.
(212) 245.8235,  315 West 57th St., http://www.yelonyc.com/spa/
Zen Buddhist Temple
Awaken your heart and mind with a public meditation service at the Zen Buddhist Temple on the Upper East Side. Join other people looking to find their Zen and learn techniques that will help you let go of the stresses of living in New York City. The temple's public meditation service is a great way to prepare for the work week ahead, as it is offered on Sundays at 10:30 am. The session lasts one and a half hours and is completely donation-based. The suggested contribution is $10 per visit.
(212) 888-6262,  206 East 63rd St.,  http://zenbuddhisttemple.org/locations/newyork/index.html