Glass artist Dale Chihuly has taken over the New York Botanical Garden once again. With his new exhibit designed to complement the Botanical Garden's landscape and architecture, Chihuly again shows his masterful use of color and material with glass sculptures intermingled among plants, near trees, and adjacent to buildings.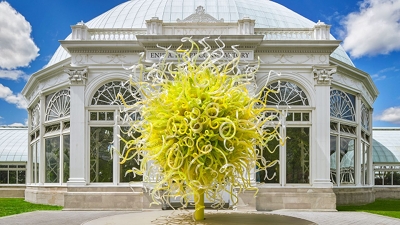 On exhibit outdoors through October 29, the myriad glass sculptures transform into neon spectacles at night. This is Dale Chihuly's first outdoor exhibit in New York in a decade and one which you shouldn't miss.  Twenty pieces including a greenish yellow tree, tangles of colored neon, and red logs are scattered among the 250 acres of the gardens, looking perfectly in place against the foliage and flowers. Overhead, hanging chandeliers, a Chihuly signature, fascinate with their twists and curls.
Also displayed (indoors) are sketches from earlier in Chihuly's career as well as some of his earlier art glass pieces.
For an artist as familiar as Dale Chihuly has become (his pieces are in hotels worldwide, in office buildings, and a permanent part of the NYBG collection), it's a revelation to see these works sited outdoors, glass that's impervious to the elements and makes a statement of color and design along the paths of green that fill the gardens.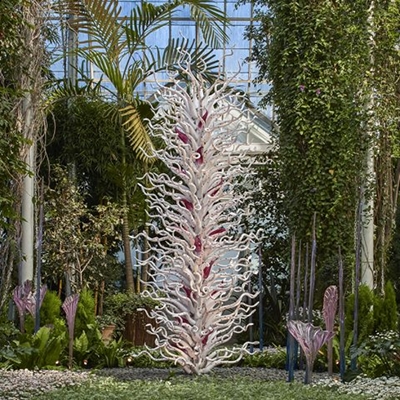 Before the end of the month, the leaves will begin to turn, undoubtedly creating another feeling and expression of the art.  See the pieces now when everything is pure green, but definitely return by month's end both to witness the change in environment and to bid a fond farewell to a beautiful exhibit.
Dining Tip: Enjoy a diverse and creative menu of paninis, pizzas, salads and desserts among the trees at the Pine Tree Café at the NYBG.  https://www.nybg.org/visit/dining/pine-tree-cafe/
New York Botanical Garden, https://www.nybg.org , 2900 Southern Boulevard, Bronx, NY, 718-817-8700. Tickets start at $23 for adults and vary by day.  Closed on Monday except for Columbus Day.