Whether you're spending your day in church, hunting for eggs, or enjoying the Easter Parade and Easter Bonnet Festival on Fifth Avenue, an Easter meal makes the day even sweeter.  Pick from the special holiday menus celebrating lamb, ham and seafood at these city favorites:
Agua Fresca: Hailing from Mexico City, Chef Adrian Leon puts a spicy twist on his Easter Sunday menu by incorporating Latin flavors.  Try the Braised Lamb Dumplings served with huitlacoche sauce and exotic Mexican black mushrooms ($16). Other specials include a Grilled Guajillo Chimichurri Whole Branzini stuffed with potatoes and chorizo ($22) and a Chipotle Cream of Mushroom soup with Chihuahua cheese and cilantro ravioli ($7).
207 East 117th Street; 212-996-2500; http://www.aguafrescarestaurant.com/
bobo:  Chef Patrick Connolly showcases locally sourced ingredients in his delightful Easter specials.  Enjoy the Slow Cooked Lamb Sandwich with sweet and spicy tomato sauce, ramp aioli, shredded Brussels sprouts, and French fries. Pair your sandwich with the specialty cocktail, The Raj, made with Beefeater, carrot juice, cardamom, and ginger beer.  Kids will love the "Toadie in the Hole" a concotion of eggs, American cheese, and French fries.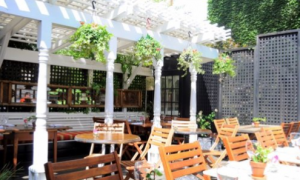 181 West 10th Street; 212-488-2626; http://bobonyc.com/
Columbus Tavern:  Stroll a block from the park and indulge in Chef Phil Conlon's masterpiece, the Ramp Pesto Stuffed Leg of Lamb, served with Thumbelina carrots, roasted sunchokes, spring onions, and natural jus ($26).  A starter of Asparagus Soup with housemade gravlax, farmer's cheese, and potato latkes ($9) or the Handkerchief Pasta with English peas, baby mustard greens, crispy poached egg, and mushroom butter ($13/19) is a must.
269 Columbus Avenue; 212-873-9400; http://www.columbustavern.com/
Kefi:  Indulge in favorites straight from Chef Michael Psilakis' childhood in Greece with a four-course menu with the perfect splash of the Mediterranean.  Begin with a soup of Magiritsa or Chicken Avgolemone, or a Greek Salad, followed by a meze platter with a choice of Grilled Loukaniko, Pork Souvlaki, Pickled Beets and Tzatziki, and Olive Salad with feta and pita. A traditional Easter lamb is the star of the entrees, done three ways: Roasted Leg of Lamb, Grilled Lamb Chops, and Braised Lamb Chops.  For dessert, there's a wonderful Galaktobouriko custard with orange spoon fruit or walnut cake with walnut ice cream. The menu is priced at $34.95 per person.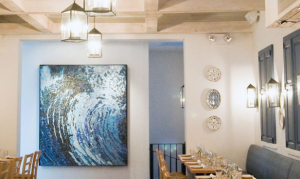 505 Columbus Ave; 212-873-0200; http://www.kefirestaurant.com/
Lincoln:  Chef Jonathan Benno and Pastry Chef Richard Capizzi welcome you to their exquisite Italian home within Lincoln Center.  You're one of the family on Easter as you watch your special brunch prepared in the central open kitchen.  Antipasti highlights include Grigliata Di Gamberoni E Calamari, Asparagi Bianchi, and Insalata Di Barbabietole E Yogurt. Among the holiday entrees are Bistecca E Uova, Prosciutto Cotto E Uova, and the Agnello Arrosto (roasted lamb leg).  For a beverage, try the brunch cocktail favorites, a Bellini Tre-Pesche or the San Marzano "Sangue Di Maria" (bloody Mary).
142 West 65th Street; 212-359-6500; http://www.lincolnristorante.com/
Merchants River House:  If your Easter company is torn between ham and lamb, Merchants River House is your choice for brunch or dinner.  In a setting with beautiful views of the Hudson River and the Statue of Liberty, Chef Wade Burch will prepare a Molasses Glazed Ham served with new potatoes and green beans almandine ($19.75) AND a Rosemary Roasted Leg of Lamb served with fava beans and balsamic glazed cippolini onions. ($21.75). Indulge in the Carrot Cake with cream cheese icing for dessert ($6.75).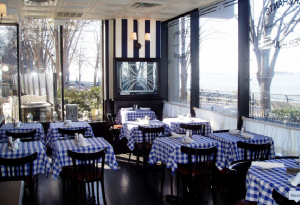 375 South End Avenue; 212-432-1451; http://merchantsriverhouse.com/
SD26: With their Southern Italian roots, Tony and Marisa May inspire the cooking at SD26 while Chef Matteo Bergamini brings it to life. Enjoy a traditional Italian four-course Easter menu, priced at $75 per person. Start with the Asparagus with Poached Egg and Mustard Zabaione before tucking into the Tonnarelli with Red Mullet, Fava Beans, and Crispy Bread crumbs. A Roast Baby Lamb with rosemary, garlic, and braised artichokes is the highlight, served with Rustic Easter Bread, Lard, Black Pepper and Salame. Finish your delicious meal with the Easter Grain Pie. The menu can also be paired with wine selections for an additional $55 per person. 
19 East 26th Street; 212-265-5959; http://www.sd26ny.com/
The Sea Grill:  Seafood lovers have an Easter brunch perfect for them, created by Chef Jaw Chasteen. The three-course menu is priced at $55 per person.  Starters feature Sweet Potato Lobster Bisque, Sea Grill Chowder, Jumbo Lump Crab Cake, Buckwheat crepes, and more. Entrée highlights include the Nova Scotia lobster salad, Yellowfin Tuna a la Plancha, Spring Lamb, and Brioche French toast.  The two plancha (or grilled) specialties are Mediterranean daurade and wild ocean striped bass.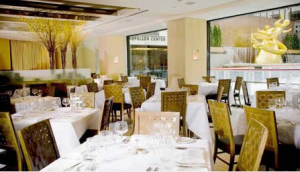 19 West 49th Street; 212-332-7610; http://www.patinagroup.com/restaurant.php?restaurants_id=31
Veritas:  Chef Sam Hazen invites you to this Flatiron favorite to enjoy the newest spring specials on the menu. In the spirit of Easter, we recommend the Niman Ranch Loin of Lamb ($35) and the Maple-Brined Wooly Pig ($34). Pastry chef Emily Wallendjack will prepare a special treat for diners that both parents and kids will love: house-made Peeps and chocolate eggs.
42 East 20th Street; 212-353-3700; http://www.veritas-nyc.com/