What's famous enough to be considered a New York City attraction, but not so tourist-y that it's a cliché? The answer is simply the Rockefeller Center Observatory.
Every New Yorker knows where the Rockefeller Center is located, and most visitors are sure to find out soon; its history is practically a legend. We know that the plaza was dreamed up by and paid for by John D. Rockefeller at the beginning of the Great Depression, and the group of buildings is famous for being the largest privately funded project. If you have ever been to the city around the holidays, you most likely enjoyed the view of the Rockefeller Christmas Tree and maybe even partook in some ice skating. But did you know you could also take the elevator up to the Top of the Rock Observatory?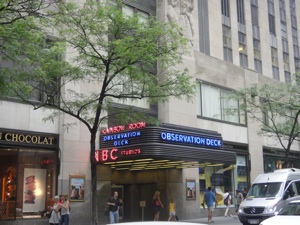 The Observatory is located at the top three floors of the Rockefeller Center and offers a 360-degree view of New York City. When you first enter the building you need to follow the signs to the ticket desk (the plaza is full of restaurants and shops as well) where you will need to pay for admissions. Of course, if you have already purchased your ticket via NYCVP you can skip this line and go ahead down the winding staircase, leading you to the elevator.
Before reaching the actual Observatory, you will walk through an area displaying facts about the building and objects from its early days. If you didn't already know much about Rockefeller Center, this is a fun introductory tour. If you already are well-versed with the history of the building, you can pass through it in less than a minute. When you get to the very top floors you can admire the view from the inside viewing area or step out on the terrace. Instead of surrounding the top of the building with metal bars such as those to be found at the Empire State Building, the Top of the Rock is lined with glass for a clear view of Manhattan, Queens, and Brooklyn.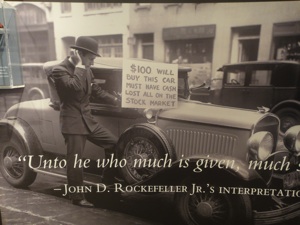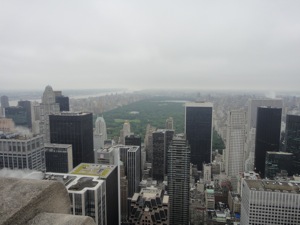 As the Top of the Rock is less of a tourist attraction than the Empire State Building, it is usually not as crowded. In fact, if you don't like co-mingling with other people at all, pay your visit on a cloudy day. Even at 50% visibility, Top of the Rock provides a stunning view of the city. With its quick elevator ride and limited staircases (only the top two floors require escalator use or climbing of stairs), this attraction is suitable for adults, children, senior citizens, and persons with disabilities alike.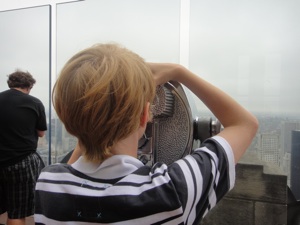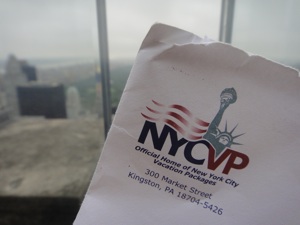 Top of the Rock can be accessed 8 a.m. - 12 a.m. Monday through Friday.
To book your tickets in advance and skip the lines when you get there, go to NYCtrip.com (http://www.nyctrip.com/Pages/Details.aspx?TourID=43). Check out their vacation packages for deals on hotels, events, and other attractions as well.