Mix culture and some cocktails and what do you get? A dreamy night out in New York City. Last summer we introduced you to the food & drink programs that the city's museums were offering.  This year we kick it up a notch with even more music and dancing. Grab a friend and spice up your week at these museum parties.
Warm Up 2011 at MoMA PS1: Saturdays get even hotter this summer starting July 2 at MoMA PS1 in Long Island City. The museum's outdoor series introduces audiences to exciting performances with the latest in experimental live music and DJs. The sounds come alive in the courtyard with acts selected from locations nearby to Paris, France. The series will be held through September 3, from 2pm-9pm and admission is $15 (including access to all exhibitions).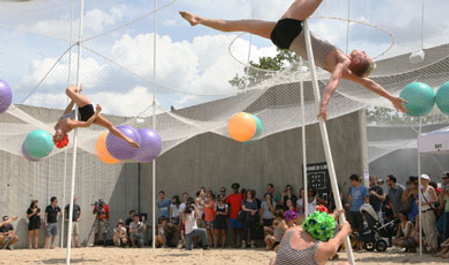 22-25 Jackson Avenue (Long Island City); 718-784-2084; http://ps1.org/warmup/
Cocktails at Cooper-Hewitt: Cooper-Hewitt ends its spring party series on Thursday, June 30 with DJ Rob Paine spinning the beats from the sounds of Philadelphia (his home) to reggae and rap. Sip a cocktail, grab some snacks, and get ready to party on New York City's largest private garden from 6pm-9pm. The event is free with museum admission (general-$15, seniors and students-$10).
2 East 91st Street; 212-849-2950; http://www.cooperhewitt.org/cocktails#/?i=1
WEPA Wednesday at El Museo del Barrio: Celebrate "hump day" on Wednesday, June 29 at the newly redone Museo from 6pm-9pm with extended gallery hours, drink specials, and the sounds of the DJs in residence. Cool off from dancing and enjoy the sixth edition of "Bienal," celebrating innovations in art by Latino, Caribbean, and Latin American artists currently working in the greater New York area. Admission is free.
1230 Fifth Avenue; 212-831-7272; http://www.elmuseo.org/en/event/wepa-wednesdays
Art after Dark at the Guggenheim: Members and their guests are invited on July 8 to celebrate the museum's current Lee Ufan: Making Infinity and The HUGO BOSS Prize exhibitions, set to a playlist selected by artist Slater Bradley. From 9pm-midnight, the exhibitions will be open for this private viewing. The event is free for members and $15 for non-members.  Cash bar.
1071 Fifth Avenue; 212-423-3618; http://www.guggenheim.org/new-york/support/join/general-members/art-after-dark
Uptown Fridays at The Studio Museum: Start your weekend with a Harlem beat at a dance party in the Studio Museum's courtyard from 6pm-9pm. Uptown Fridays run through the end of August and also provide admission to the museum's exhibits (with guided tours).  Admission is free.  The Atrium Café serves food and cocktails. No programs on July 1 and 8.
144 West 125th Street; 212-864-4500; http://www.studiomuseum.org/event-calendar/event/uptown-fridays-2011-06-24
K2 Friday Nights at Rubin Museum of Art: For a more relaxed Friday night museum scene, visit the Rubin in Chelsea where the café transitions into the sexy K2 Lounge. Indulge in the aura of the Himalayan culture as you listen to live jazz and acoustic music (tickets required) at 7pm while enjoying the special Pan Asian tapas menu. Take your martini over to the Cabaret Cinema at 9:30pm for a film screening (free with a $7 bar minimum). Admission to the galleries is free from 6pm-10pm.
150 West 17th Street; 212-620-5000; http://www.rmanyc.org/pages/load/122
Anthony Caro on the Roof at The Metropolitan Museum of Art: On Friday and Saturday nights, the Met stays open until 9pm and provides a gorgeous outdoor setting for conversation, refreshments and art: The Iris and B. Gerald Cantor Roof Garden. The spectacular exhibit, "Anthony Caro on the Roof," showcases fifty years of the British sculptor's work.  The Roof Garden Café and Martini Bar stays open until 8pm and serves light fare and cocktails. Be sure to try one of the cocktails named after Caro's sculptures such as the Midday Martini, Blaze On, and After Summer.
1000 Fifth Avenue; 212-570-3828; http://www.metmuseum.org/special/se_event.asp?OccurrenceId={F97033D2-802B-4A64-AC9C-EDE499383A05}