Le Grand Fooding, Campfire Session -  French Organization, Le Grand Fooding ,  presents a New York 2011 'Campfire Session' September 17 from 6-10pm at the Elizabeth Street Garden (226 Mott St.).  A limit of 250 tickets is being sold for $50 each and includes a food tasting, set of 3-Jameson creations and live music.  The line-up of international chefs is impeccable and the session includes a full-course meal, right down to the artisan ice cream scooped by Van Leuwen of NYC.  It's sure to be a warm and cozy vibe, filled with Parisian twists, fried chicken and good drinks.  $15 of each ticket sold goes to Action against Hunger, towards ACF-International.  To book a seat and view the menu, go to: www.legrandfooding.com/new-york/campfire/.
Le Grand Fooding, Exquisite Corpse-- The French food gods of Le Grand Fooding are bringing yet another delicatessen from September 23-25, entitled the Exquisite Corpse.  This event kicks off at 9pm on the 23rdand brings a 52-hour round-the-clock mash-up of famed chefs from around the world to produce their culinary wonders.  Tickets are $100 and include a four-course menu from the chefs of your choice.  New York favorites Andrew Carmellini (Locanda Verde, The Dutch) and Hugue Dufour (M.Wells) premiere their feasts on the 23rd.  For views of the menus, chefs and ticket sales go to: www.legrandfooding.com/new-york/exquisite-corpse/
Vendy Awards -- Now in its 7thyear, the wildly popular street food truck event known as the Vendy Awards is scheduled again at Governor's Island on September 24.  Here, the fiercest street chefs in the city will rev up their engines in competition for the titled position and honor, the Vendy Cup.  General admission tickets have already sold out, but a new forum of Early Entry tickets have just been released and are selling for $145 a person.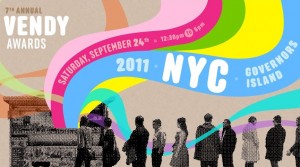 These exclusive tickets allow for a foodie dream, complete with an extra hour of eating and fast pass availability to shorter lines.  From 12:30- 5 pm, vendors prepare and serve their finest tastings for the crowds; in the end it's the general public's vote that will determine the top prize.  Bring comfortable shoes and be prepared to stand in lines (even with the fast pass, an essential part of the street food experience.  For more information on booking, transportation to the event and a list of the just-announced rookie and dessert finalists, go to: www.streetvendor.org/vendys
New York City Wine & Food Festival-- What it means to be passionate about food and wine is exactly what this festival caters on.  From Tequila & Tacos with Bobby Flay to brunch with the Neely's, tips from Paula Deen, lessons on sushi rolling, cake decorating and more, you'll be able to find your favorite event at the festival.  The 4th annual five-day extravaganza, sponsored by the Food Network, provides for every niche of food preference and gives 100% of the net proceeds of the event to charity.  This is the only festival in New York to bring together legendary culinary icons and our favorite television chefs. From September 29 to October 2, a long list of seminars, tastings and classes will be offered throughout the city; prices vary. Details on tickets, packages and events can be found at www.nycfoodandwinefestival.com .