To continue our tour of The High Line from Taking a Tour of Manhattan's High Line, Part 1, we'll start with the "stairway to nowhere."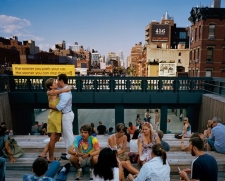 At the 10th Avenue Square you can enjoy a constantly changing piece of "art." In a drive-in stadium setting, the slanted rows of benches offer a view from 17th Street looking north along 10th Avenue. Watch the big screen (the window) as cars speed by beneath you. It's my favorite "stairway to nowhere" hangout, albeit one that's suspended over a busy street.
The High Line has some very distinctive architectural neighbors to the west as you approach 19th Street. Jean Nouvel's fabulous multi-color glass mosaic building and Frank Gehry's milky-white IAC headquarters have added excitement to the predominantly low-rise area surrounding the tracks. Even if you're not a fan of modern architecture, you have to admit that these are two amazing buildings.
Continuing north to 20th Street, you'll soon see a sculpture by Sarah Sze known as Still Life with Landscape (Model for a Habitat), which forms an open archway outlining the views from north to south. This sculpture, with its perches, feeding spots and birdbaths, functions as a bird, butterfly and insect observatory. Built of metal and wood, it beautifully ties together the urban and natural components of the High Line.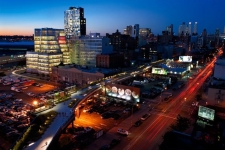 Close by, La Newyorkina, a Lower East Side favorite, sells delicious Mexican ice pops and other sweets. The available flavors of paletas are constantly changing but for a current list you can contact info@lanewyorkina.com. Some options could be coconut, avocado, papaya, cucumber-lime, or pineapple-jalapeño (back by popular demand). You can add your own chili powder for an extra kick.
The Lawn that stretches along 23rd Street has become the public's favorite space for lounging, sunbathing, people watching and picnicking. Oftentimes, music performers set up here, offering easy-listening kinds of tunes and guitar picking. Toddlers running around, little kids dancing, and adults just taking it all in complete the ambiance.
Something to watch in the years to come is what's known as the Falcone Flyover from 25th to 27th streets. This elevated portion of the High Line has been designed to put you at tree-top level with the newly planted canopy. As the trees fill out and mature, this will be a very interesting park area in New York City.
On the other side of the path is a new favorite hangout, "the movie screen" area, or Viewing Spur. With benches facing a glass frame looking out over 26th Street, you can fantasize that you're part of a real-time screening, with you as the audience, and everything in front of you as the cast. It's mesmerizing.
At the current endpoint of the "transformed" High Line, you're offered the perfect seat to watch the festivities below. This summer's High Line Rink for retro-style roller skating and The Lot on Tap, featuring a food truck food-park, artisanal beers and other beverages overseen by Tom Colicchio, were enormous hits, and we look forward to their return next year. http://www.thehighline.org/the-lot/high-line-rink.
High Line history, rules, regulations, and schedules can all be found at http://www.thehighline.org/ . The High Line is open from 7am-11pm daily, with last entrance at 10:45pm.