We love the elegant cupcakes at Crumbs, http://www.crumbs.com/, and the pastel Sex and the City confections at Magnolia Bakery,  http://www.magnoliabakery.com/home.php, and are grateful for their many outlets throughout the city.  But if you're interested in trying some other NYC faves, this cupcake guide's for you.  This fall, forego boring apple and pumpkin pies and bring any of these little pieces of heaven to your Thanksgiving fest.  Your family will be sure to show you extra thanks this year!
Butter Lane: This East Village bakery does only one thing, and it does it right: cupcakes. Butter Lane focuses on producing a quality cupcake, using only the best ingredients such as pure cocoa and dark chocolate, real vanilla beans, fresh fruit, and local dairy products.  Come in and compare the bakery's two types of buttercreams—French (made with egg whites, butter, and granulated sugar) and American (made with confectioners' sugar and butter).  We recommend the vanilla cupcake with the pumpkin icing, this season's star of the show. ($3/cupcake)
123 East Seventh Street; 212.677.2880; http://www.butterlane.com/index.html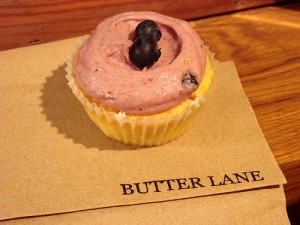 Sugar Sweet Sunshine: Step into this funky bakery and enjoy the retro vibe and the retro cupcake prices. (Cupcakes are only $1.50 or $1 for minis!) The Sexy Red Velvet and Sassy Red Velvet are classics, but the Pumpkin and Pistachio sound like the perfect complements for holiday tables.
126 Rivington Street; 212.995.1960; http://www.sugarsweetsunshine.com/
Sweet Revenge: Cupcake bakeries may have popped up all around the city, but Sweet Revenge stands tall as the city's only cupcake, beer, and wine bar. Known for its cupcake and wine or beer pairings and its tantalizing happy hour (Sangria/Pinot Noir/Sauvignon Blanc and a cupcake for $10), Sweet Revenge also offers a bistro menu and other scrumptious desserts. The signature Sweet Revenge cupcake (peanut butter cake, ganache filling, peanut butter frosting) sounds perfect for holidays, as does the Nog cupcake (eggnog cake with spice cream cheese frosting), and the Pumpkin Spice cupcake (pumpkin cake with cinnamon cream cheese frosting). ($3.50/cupcake)
62 Carmine Street; 212.242.2240; http://www.sweetrevengenyc.com/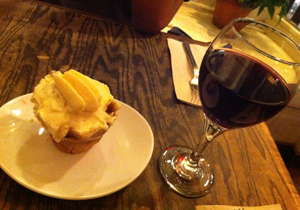 Cupcake Stop: Food trucks have been all the rage this year, and Cupcake Stop has certainly become an instant favorite. Stalk down the truck's location on Twitter and spice up your day with any of the cupcakes from the fall collection: Sweet Potato Pie (roasted sweet potato cake, toasted hazelnut frosting, toasted walnut, mini marshmallow), Hummingbird (fresh banana and pineapple cake, cream cheese frosting, toasted walnut garnish, toasted walnuts), Carrot Cake (carrot cake filled with raisins, cream cheese frosting infused with carrot shavings, toasted walnuts), and Apple Pie A La Mode (caramelized spiced apple cake, scoop of vanilla buttercream, homemade caramel drizzle).
973.744.2400; http://www.cupcakestop.com/; http://twitter.com/cupcakestop for locations
Butch Bakery: For cupcakes with an extra shot of testosterone, Butch Bakery is the place to order from. Butch Bakery prides itself in creating "manly cupcakes."  You won't find any cutesy treats from Butch Bakery, but each of the 12 offerings is more decadent than the next. The Jackhammer (chocolate cake, chocolate hazelnut filling, hazelnut buttercream), Big Papi (cinnamon spice cake, dulce de leche filling), and Campout (graham cracker cake, marshmallow filling, milk-chocolate ganache) are the perfect holiday gifts for that "manly man" in your life. Boxes, aptly named "rounds" range from $17.50 to $48.00 per box.  No storefront yet – all cupcakes are delivered to your home.
(Made to order cupcakes only) 646.221.3477; www.butchbakery.com