What to do in New York City on the 4th of July
What is there to do in New York City on the 4th of July? That's a question many people ask around this time of year, whether they've lived in NY their whole life, just moved there, or are simply coming in for a visit. Many people just think of going to the beach, or staying at home for a family cookout. While these are great choices (and Independence Day classics), they are far from being the only choice in NYC. And I'm not just talking about sitting on the couch and watching the Sci-fi Channel's Twilight Zone marathon, either! There are numerous activities to do in and around the city.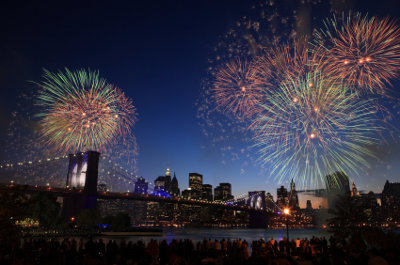 Macy's Fourth of July Fireworks
Perhaps the most well known festivity in New York City on the 4th of July is the Macy's Fourth of July Fireworks. For the last 35 years, Macy's has sponsored this enormous fireworks display over New York, and this year they will fire off over 40,000 fireworks synchronized to pop favorites and American classics. This year, in celebration of the 235th birthday of the United States, the fireworks will be shot off at the Hudson River and will feature performances by Beyoncé and Brad Paisley and will be hosted by Nick Lachey. The event is scheduled to begin at 9 pm EST, and will be televised live on NBC. For more information, visit http://social.macys.com/fireworks2011.
Nathan's Famous Fourth of July International Hot Dog Eating Contest
Nathan's Famous, established in 1916, has held an annual hot dog eating contest on July Fourth every year since it opened, and this year is no different. 2010's contest ended in the fourth straight win for Joey Chesnut, especially easy due to his rival Takeru Kobayashi being sidelined for the first time in 10 years due to a contract dispute with the National Eating League. However, that didn't stop Kobayashi from making a dramatic appearance as he was arrested while trying to storm the stage during the award ceremony. Will this year's contest be as exciting? It all starts at noon on Independence Day, and you should try to get there an hour early if you want a good view. For more information on the contest and on Nathan's Famous, visit their website at http://nathansfamous.com.
Revolutionary War Walking Candlelit Tour
If you're interested in history, one option for something to do in NYC on the 4th of July is the Candlelit Walking Tour of Revolutionary War NY. From 2am to 6am, the tour will start at Fraunces Tavern Museum and travel around Lower Manhattan, pointing out various war sites while also telling about life in New York during the Revolutionary War and teaching about war heroes of the time. Tickets are $20 a person and $15 for museum members. More info can be found at http://www.frauncestavernmuseum.org/mus_cal.html.
The Iron Horse Block Party
If you like the idea of the cookout but don't have a backyard to do it in, be sure to head down to the annual Iron Horse Block Party on the closed down Cliff Street. Supporting their favorite charity, The Wounded Warrior Project, and complete with free burgers, hotdogs and all the other 4th of July amenities, this is a block party that you are not going to miss. The event starts at 12 pm and goes until 9 pm leaving you all day to come and go and if you schedule you're time accordingly you may even be able to catch the fireworks!
Harbor Cruises
The 4th of July brings about numerous holiday cruises to relax, eat good food, dance, and watch the fireworks go off. These range from the $75 Circle Cruise Line cruise to the $325 formal World Yacht cruise with a 5-course meal. Most of the cruises are in the $100-$200 range and include a meal, entertainment, and cash bar.
Hopefully this gives you a few ideas on what to do in New York City on the 4th of July other than flipping burgers, waving sparklers, and vegging out to Rod Serling.
-Ella Riez for AllNY.com (Edited and Revised in 2011)