How to Improve Your Online Dating Profile
New York Online Dating
Get more hits on your online dating profile with these tips: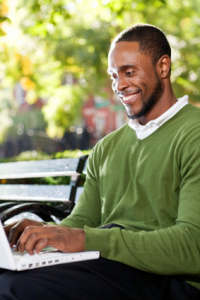 In today's high tech society where we want everything now, now, now, the digital age is in full swing! There is technology for everything. You can get mail delivered to you via your computer screen. You can purchase just about anything you could ever need from the comfort of that big executive leather chair you're reading this article from. You don't even need to watch TV or rent movies anymore... because you can do all of that online as well.
So why pick up the phone and call someone for a date when you can just log onto your favorite instant messenger? And while the internet might not be able to nourish you (yet), you can order your food with the click of a mouse! It seems like the only thing you need to go out into the real world for is to "pick up chicks" and "scope" hot guys. Oh... no, wait! That's right! There are plenty of New York online dating services!
With plenty of dating sites like FriendFinder.com, okCupid.com, eHarmony.com, and Match.com (to name just a couple), meeting someone online before you ever meet them in person is easier and easier.
Some people believe that online dating services are "weird" or "creepy"... but they are in the minority. Many of us today are forming friendships and even relationships with people that we first met not in the bars of New York, but with online dating sites like those mentioned already, or social networking sites like myspace.com, facebook.com and twitter.com. We can all log on and start browsing around and talk to the people we find interesting (or hot!), but how do you make people come to you? What do you need to do to get noticed by Mr. or Ms. Right? The simple answer is to have a killer profile!
On any dating or social site, your personal profile is essentially you. Since you're not in a bar where you can strike up a conversation with any single you see, your profile needs to scream "come talk to me!" but at the same time not seen desperate. How do you do that? By following these basic steps...
New York Online Dating Tip #1: Choose the right profile picture!
In many cases, your picture will be the first thing people see! Just as in a bar you only want to go and find out more about the people you think are attractive, many people check out profile pics and decide from there whether to move on or read what you have to say. On most dating sites, when you do a search, the results come up as a single thumbnail profile picture and your name with a link to your profile. If a person isn't drawn by your picture, they may never read your profile. So how do you pick the right picture?
GIRLS: Use pictures need to use pictures that are sexy, but not sleazy. Too much cleavage says "check out my rack" which is probably not the image you want to send. But then, that huge sweater your granny knit for you last Christmas might tell people you're embarrassed about your body. You need to find a good medium. Clothes that fit your form well but aren't slutty are great choices. You may want to wear something that still has an air of flirtation and sex appeal.
GUYS: Don't wear your "eatin' shirt" for your profile picture. You know the one, that pit-stained shirt that doesn't quite fit anymore but is still comfortable for when you're just sitting around watching ESPN and eating a bowl of chili. You wouldn't let that girl you fantasized about in English class see you like that, so why would you showcase it online?
BOTH: Everyone has their good and bad sides. Light the picture well, and keep in mind the framing of the photo. The idea is to look as appealing as you can!
New York Online Dating Tip #2: Tell us what's great about you, but be modest.
When dating, women are looking for someone with confidence, but not cockiness. Show why you may be a great catch! Are you a poet? How's your cooking? What do you love most about your job?
DON'T write about how you're unemployed and live in your mom's basement... that probably won't score you any points.
DON'T write abut how you think you're so fat and that making a profile was probably a terrible idea because nobody will be interested in your profile anyway. You'll probably be right!
DON'T write about how you're god's gift to women or that you're the finest looking chick on the East Coast! Remember to be confident, not cocky!
New York Online Dating Tip #3: Take quizzes!
Many dating sites will have tons of quizzes you can take! Everything from those I.Q. tests that we all know are totally inaccurate, to quizzes that tell you which Twilight character you are! Take them! When dating, many people look for things to talk about or they have in common. Reading that you both know a lot of Seinfeld trivia or that you had similar rankings for the top 5 cds could provide someone with a little incentive to send you a message.
New York Online Dating Tip #4: PM Etiquette
When you find someone you want to talk to, you'll probably send them a Private Message (PM). All online dating services have a PM feature.
Don't ask for phone number or meeting right away, that's creepy! Instead, send a few messages back and forth and then maybe move on to instant messengers, then phone, than an in-person meet-up. It is not a good idea to send a message to someone that just says "Wow, you're hot!" Chances are, you will never hear from her again! Think about what you would say to the person in person based on what you know. What more do you want to know? These should be the content of your first PMs.
Now, go out there and create an interesting profile and start meeting singles!
-Ella Riez for AllNY.com