Romantic Restaurants New York City
The Best Places to Take a Date in the City
Are you looking for the perfect venue for a marriage proposal, anniversary or romantic occasion? Perhaps you don't want a clich&eacute romantic restaurant and are looking for something a bit more original or you want a tried and true restaurant that is a safe bet. Here are some great places to have a romantic dinner in the New York area.
Renowned French Chef Daniel Boulud's four star restaurant will definitely not disappoint in the cuisine or atmosphere categories. A Zagat survey referred to it as a "home to what would be heaven's kitchen". Elegant, sleek and contemporary not only describe the interior but also the impeccably prepared menu. Daniel offers a 24,000 bottle wine cellar with bottles starting as little as $30. The Skybox offers a "Chef's Table" in a private dining atmosphere that is enclosed in glass and offers an overhead view of the kitchen. Very romantic, formal attire, pricey but worth it! Daniel accepts reservations one month in advance.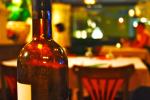 60 East 65th Street
New York, NY 10065
(212) 288-0033

An Upper West Side icon founded in 1917, this restaurant offers an original and romantic setting. Upon entering you will see walls adorned with oil painted murals and green foliage everywhere, reminding you it is more of an old-fashioned place then a trendy newcomer. The service is personable, reliable and experienced. The menu is traditional French offering plenty of Continental mainstays such as Steak Tartare and Escargot. Vegetarians may choose another restaurant, but lovers of great French cuisine will come back again and again. Located near the Guggenheim and Lincoln Center, it is a great venue for a special evening out. A great place to make memories!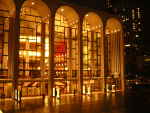 One West 67th Street
New York, NY 10023
(212) 877-3500
Since 1977 this restaurant has been cozied up next to the Brooklyn Bridge offering amazing views of New York Harbor, the city skyline and the Statue of Liberty. The menu is the best American cuisine your lips will taste, ranging from Colorado lamb to seafood ceviche to soft-shell crab stuffed with lobster meat. Strawberry shortcake and Key Lime Pie are the reigning champion desserts. Just because the menu is not full of words that you cannot pronounce does not mean this restaurant lacks anything in the romantic department. Every table offers a great view, but for an extra special evening ask for window seating and order the extra-special "Chef's Table" dining experience.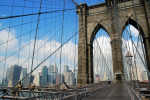 One Water Street
Brooklyn, NY 11201
(718) 522-5200
Tucked away in Greenwich Village, this restaurant offers attentive service and romantic ambiance. You can sit in what was once Aaron Burr's old carriage, as this was his original carriage house. Savor their famed Beef Wellington or any other delight from their French/American menu. The menu has transformed from traditional Continental cuisine to a more international inspired menu, offering goat cheese gnocchi and seafood gumbo. This restaurant is cozy and intimate, offering dual fireplaces, a resident pianist and abundant candlelight all topped off with lush, fresh roses everywhere.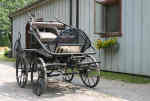 17 Barrow Street
New York, NY 10014
(212) 255-8649
Located in the meatpacking district, this restaurant is stylish and full of charm. The setting is a brownstone dating back to 1848 with exposed brick and wooden beams that lead to a dining garden with ivy covered walls. Two levels, connected by a floating staircase, each offer cozy fireplaces for an intimate dinner. The cuisine is trendy fusion-style, combining ingredients from around the world especially the Asian countries. This restaurant is a breath of romantic fresh air, located in a trendy area, offering exciting cuisine and a contemporary, intimate setting.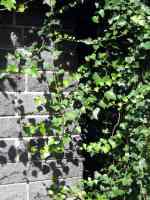 5 Ninth Avenue
New York, NY 10014
(212) 929-9460
-Ella Riez for AllNY.com