Where Can You Find the Best Falafel in New York City?
You can find three of the best falafel places in Greenwich Village.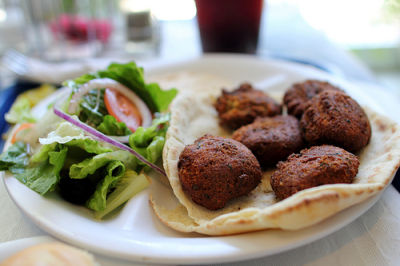 Israeli-style Falafel (as opposed to Egyptian, fava-bean based falafel) is a mainstay of cuisine for young New Yorkers and the numerous falafel options are a testament to falafel's popularity. The best falafel in Greenwich Village is found not in formal restaurants, but in tiny shops with little seating and occasionally lines out the door. Be sure to take extra napkins to catch any dripping tahini while you try these (mostly) inexpensive options.
Mamoun's Falafel Restaurant
Mamoun's was the Falafel King of the Village for years, and now shares its crown. It is still good, cheap and offers up its greasy goodness until five in the morning. The classic falafel sandwich with hummus and tahini for only $3.00 is the perfect ending to a long night out. There is hardly any seating inside, but you probably would not want to stay in there anyway. There are two tables outside the St. Marks location and a bench available outside the MacDougal Street shop.
119 MacDougal Street (between 3rd Street and Minetta Lane)
New York, NY 10012
212-674-8685.
22 St Marks Place (between 2nd Avenue & 3rd Avenue)
New York, NY 10003
212-387-7747.
Maoz Vegetarian
Maoz, a chain from Holland, stands out not for its falafel itself, which is perfectly good, but the stores' salad bar. Maoz bills itself as "quick service vegetarian restaurant chain" and its vegetarian toppings range from coleslaw to sun-dried tomatoes. The exact offerings vary by day, but staples include cooked carrots, sauteed broccoli and cauliflower, and Israeli salad. Tiny plastic cups are used to hold tahini that comes out of squeeze bottles, reminiscent of the catsup and cups available at McDonald's. A falafel sandwich with unlimited salad bar is $4.95 while a falafel bowl, which is bigger, but offers only one trip to the salad bar and no pita, is $4.50. Maoz does provide tables and benches, which you will have to share with other diners
59 East 8 Street (between Broadway and Mercer Street)
New York, NY 10003
212-420-5999
Taim Falafel and Smoothie Bar
Taim has take fried balls of chickpeas and made them chic, and the prices are higher than any other falafel shop in the area. For the extra money, Taim offers three flavors of falafel: original, harissa, and roasted red pepper. Harissa is a Tunisian paste made from hot peppers, garlic and a variety of other spices, and these are the best the tiny place has to offer. The plain falafel is for parsley lovers, but the differences are only discernable when eating the falafel plate, not the sandwich. The platter is $10.00 and comes with hummus, Israeli salad (diced tomatoes and cucumbers with parsley) and fluffy pita bread. Space at the counter inside and the bench outside is hard to get, so plan on taking it to go.
222 Waverly Place (between 11th Street & Perry Street)
New York, NY 10014
212-691-1287