4 Fun Things for Adults to do in New York City on and around Halloween
Halloween evening was believed to be the time when evil spirits came to earth and played tricks on the living. Human beings would dress up as the dead as to blend in with the spirits and be left unharmed. Today, we dress up to be noticed and celebrate the spirits of the night. If you find that your friends have decided they are too old to dress up or if you just want something to do for Ol Hallow's Eve this fall, you can choose from a plethora of events. Here is a sampling of some of the most fun and diverse options for adults on and around Halloween.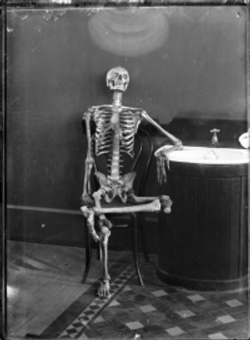 The 36th Annual Village Halloween Parade
The Village Parade is perhaps New York's most famous Halloween attraction. Thousands of costumed participants walk the parade route on Sixth Avenue from Spring Street to 21 Street from 7:00p.m. to 10:00 p.m. This year's theme is Terra Incognita, the unknown earth. Designers will "turn 6th Avenue into a vast, churning azure sea, made of billowing silk tides animated by 200 volunteers." The best part: all those in costume can get their freak on in the parade. Meet between 6:30 p.m. and 8:30 p.m. at the start of the parade route on Sixth Avenue between Spring Street and Canal Street. http://www.halloween-nyc.com/
Blood Manor Haunted House
Thursday-Sunday in October starting Friday, October 2. Also open October 27-31 (Halloween week) and November 6 and 7.
This Victorian-style building is filled with actors trained to terrorize. This blood-filled manor house is located on 542 West 27th Street between Tenth and Eleventh Avenues. Tickets are $30 at the door the night of entry or $25 plus a $3.50 handling fee purchased in advance. Express tickets are available for an additional fee. Fridays and Saturdays, 7:30 p.m. – 2:00 a.m. Thursdays and Sundays, 7:30 p.m. 7:30 p.m. -12:00 a.m., except Halloween week when hours are 7:30 p.m.-1:00 a.m. Not recommended for children under 14 years of age.
http://www.bloodmanor.com/
The Cathedral Church of St. John the Divine Annual Halloween Extravaganza & Procession of Ghouls
Friday, October 30
At the Cathedral, watch the 1922 German horror classic Nosferatu, based on the story of Dracula, and the Procession of the Ghouls puppet show choreographed by Cathedral Artist in Residence Ralph Lee follows. After the 7:00 show, there will be a cocktail reception for Cathedral Young Regents. Tickets cost $50 per person. The Cathedral is located at 1047 Amsterdam Avenue at 112th Street. Shows are at 7:00 p.m. and 10:00 p.m. http://www.stjohndivine.org/.
Halloween Costume Party Cruise
Saturday, October 31
Enjoy an evening on a floating haunted house while taking in the views of Manhattan at night. The Zephyr is a 143-foot yacht that will be filled with costumed partiers dancing to music from spinning DJs. Make sure you are dressed for the occasion as there will be a costume contest. Tickets are $50 at the door and $47 in advance. With a ticket comes one free drink and free appetizers. Must be 21 or over with a valid ID. The Zephyr boards at Pier 16, South Street Seaport at 9:00 p.m., departs at 9:30 p.m., and returns at 12:00 a.m. Pier 16 is east of the intersection of Fulton and Water Streets. http://www.circlelinedowntown.com.
New York doesn't lack in variety and hopefully there is something here for everyone wishing to get out and have fun this Hollows' Eve.
-Marguerite Dunbar for AllNY.com