Best Kid Friendly Restaurants in New York
Surprisingly enough there are quite a few kid friendly restaurants in New York that will please the whole family. While New York is well-know for romantic date-night restaurants more suited for couples looking for a night on the town, Mid Town and the Upper East Side are home to a number of restaurants, close to most popular hotels, that appeal to kids. These restaurants all offer kid friendly menus in addition to more mature fare for adults. Even though a few of these restaurants are chains, we have included several kid friendly options that are unique to New York.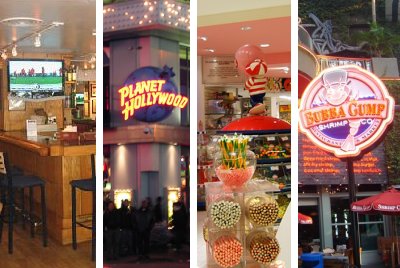 Serendipity
Situated in a quaint brownstone with Tiffany lampshades, Serendipity is the perfect restaurant for kids and adults with a sweet tooth. It is a time-honored tradition in New York for mothers and daughters to visit Serendipity on Sunday afternoon after shopping at Bloomingdales to share a frozen hot chocolate. Fathers and sons, however, will also surely appreciate a cheeseburger or Steak Char Char (sliced Roumanian steak) with a "Big Apple" Pie for dessert. Recently this storied has played host to young stars such as Ashley Tisdale of High School Musical and Miley Cyrus of Hannah Montana.
225 East 60th Street (btwn 2nd and 3rd Ave.)
New York, NY 10022
Mickey Mantle's
As a life-long Yankee fan who had several of his early birthdays at Mickey Mantle's I might be biased, but I still believe Mickey Mantle's is the most fun you can have at a restaurant in New York. While non-Yankee's fan might blanche at the thought of a restaurant based on New York's famous #7, even Red Sox fans will appreciate the fact that there is some Ted Williams memorabilia to be found. Aside from the kid friendly sports ambiance, Mickey Mantle's has a sophisticated menu that will truly appeal to kids and grown-ups alike.
42 Central Park South (57th St.)
btwn 5th and 6th Ave.
New York, NY (212) 688-7777
Planet Hollywood
Planet Hollywood features all the Hollywood memorabilia that kids love. Even though Planet Hollywood has locations around the world, the New York restaurant is known for its collection of kid friendly movie iconography. The movie props featured at Planet Hollywood are constantly updated to ensure that you get to see memorabilia and mementos from the latest Hollywood blockbusters. Their menu also features all the kid favorites like chicken fingers and mozzarella sticks.
1540 Broadway (btwn. 45th and 46th)
New York, NY 10036
(212) 333-7827
Bubba Gump Shrimp Co.
This Times Square Forest Gump themed restaurant is renown for its fresh seafood and exotic mixed cocktails. If the kids in your group are not into fish, Bubba Gump's offers a kids menu replete with mac 'n' cheese, pizza, and hamburgers. Although it can feel like a bit of a factory, kids will love the fact that you will be located across the street from the only Toys 'R' Us in New York with an indoor Ferris Wheel.
1501 Broadway (44th St.)
New York, NY 10036
212-391-7100
Dylan's Candy Bar
While not a restaurant per se, more of a large candy store, it would be a tragedy to not make a visit to this candy laden kid-heaven across the street from Bloomingdales. You will be hard pressed to find a more diverse collection of candy anywhere else in the world.
1011 3rd Ave (60th St.)
New York, NY 10021
(646) 735-0078